Day 37: Chinese buffet tactics
Total weight loss to date: 12 pounds
Next weigh-in Saturday, 2/18
Yesterday was a day of trials and successes. I battled my way through a few difficult meals, but came out successful.
I was very busy at work in the morning, and had no time for breakfast. Rick planned to pick me up around noon to get some lunch before driving to a funeral an hour and a half away. [Yes, another funeral! I have lost 4 friends and/or acquaintances in the past 6 months.]
We drove a bit and I decided I was in the mood for a burger with grilled onions. We stopped at a small diner and I took a quick look at the menu. While I was still mulling over the choices, the waitress advised us that the bbq pulled pork was very good. I ordered that with some deep fried zucchini.
Minutes after the waitress left to put in our order, I looked up the carb content of the pulled pork. What was I thinking? It was over 40 carbs on most entries! I forgot that barbecue sauce is not my friend.
Rick grabbed the waitress and asked if she could put that order to go, and switch to a burger for my meal. She was quite amenable, and I had a 1/2 pound cheeseburger with grilled onions, a slice of tomato, and mayo. I disassembled it and put the bun into the bag with the sandwich to go.
The next trial was the zucchini fries. Of course they were breaded before they were fried! I certainly wasn't thinking – could be that my brain was addled from lack of food, because by this time it was about 2 pm. I cut each piece in half and pulled the coating off. Good, but not great.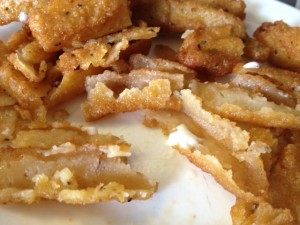 The hamburger, however, was very good tasting and filling.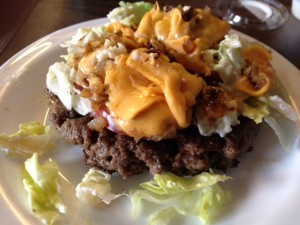 After the funeral, we were all invited to…..
the Chinese buffet.
I LOVE the Chinese buffet. And I was positive that I couldn't ever go there again. However, I was determined to find SOME low carb choices, but I knew the the trick would be passing the carb-laden foods that I love: crab rangoons and General Tso's chicken.
I started by getting some baked crab, then some sauted shrimp. As I was passing the eggrolls, I realized that I could probably scoop the insides out and eat just that portion. So I took 2 eggrolls and 1 spring roll. Hmm. If I can do that, why can't I eat only the insides of a crab rangoon. After all, crab and cream cheese are legal. For the entire meal, I had 6 of them. Each yielded about a tbsp of crab/cheese after the exterior fried shell was eliminated. For a bit of variety, I put some type of steak and veggie combo and some cheesy broccoli on my plate.
The meal took some work, since I had to slice things open and carve out the innards, but it was pretty tasty, and I was somewhat full when finished. I really have a difficult time figuring out exactly how many grams of carbs were in each item, since most online nutrition details don't include the carb count for only the insides of eggrolls and rangoons, but I have to think I did okay.
I skipped dessert, of course, and ate some sugar-free jello/cream cheese mousse at home.
I'm going to take some time this weekend to figure out the carb count of various items that I could encounter so I can be better prepared next time I need to make a quick decision. I am pretty encouraged that I could do this long term. I know it will be awhile until I reach my goal, and it's nice to know that I can go to some of my usual haunts and still find food that fits the plan.