Category Archives:
Andouille sausage on keto
Off to a good start Monday and more of the same on Tuesday.
Breakfast was an omelet and bacon at home. I had a nice relaxing breakfast and some leftover time to blog (I have 4 of them, so it's tough to keep up.)
Lunch: more leftover chicken/veggie kabobs.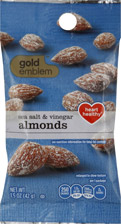 Snack at work: Salt and vinegar almonds. I wrote about buying them in another blog. Well, my dozen cans arrived, and I was a bit disappointed. The brand I ate the other day (Gold Emblem from CVS) tasted exactly like salt and vinegar potato chips. The Blue Diamond brand only has a slight vinegar taste, plus some type of tangy chili-like flavor. They're okay, and I like them enough to eat as a daily snack, but I much preferred the Gold Emblem brand almonds. I'll have to see if I can find them in bulk.
After work, Rick and I went outside on the deck. It still isn't very warm in Michigan, and I'll bet it was in the high 30's. I lasted about a half hour. I HATE the cold.
I drank a Michelob Ultra 2.5 grams of carb beer and 3 small pieces of andouille sausage dipped in mustard. For dinner, I reheated the Cincinnati chili from Sunday.
For dessert, I made keto-friendly chocolate mousse.