Category Archives:
potato substitutes
Total weight loss: 39 pounds
Well, I really enjoyed that early morning breakfast Wednesday, so I made the effort to rise early and try it again. This time, we went to the Senate Coney Island, which is a bustling diner even at 7:30 am. I ordered a cheese omelet, asked them to add grilled onions, and skipped the toast. The side of bacon was enough for me to share with Rick. I topped the egg with sour cream (of course) and called it a meal. The service was fast, the omelet was delish, and the bacon was perfect. No extra hash browns to deal with and I just skipped the toast. We'll be back.
Lunch was on the run, again. More paperwork and banking to do. This house closing is dragging on, and there are still details to cover and items to move from the house.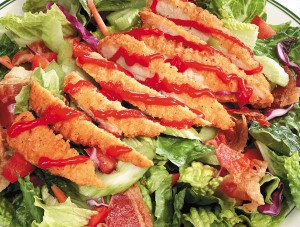 We went to Big Boy. Since this blog is all about honesty, I had a really difficult time deciding NOT to eat carbs. I love BB fish and chips, so that was hurdle one. I was tired, stressed and hungry (too hungry), so my decision making processes were hampered by the need for some comfort food. I had tried the buffalo chicken salad a while back and decided to try that. The spiciness might make me feel like I was having some tasty treat, and the blue cheese dressing that comes with would be creamy and fill that need for comfort.
It was a hit! I was a little worried that I made a wrong choice when I saw that the chicken had some kind of coating on it, but at that point, I was eating it no matter what. The tangy buffalo sauce was subtle on the small slices of chicken and blended well with the blue cheese. It was filling and delicious.
Again, I forgot to take a picture, so here's one that looks similar. I will definitely be ordering this again soon, so I'll get an authentic one on my next visit.
I looked up the nutrition information when I got home and it passed muster. Without croutons (which I removed), it's 10.2 grams of carbs minus 2.3 grams of fiber, for a net of 7.9. That's not counting the blue cheese dressing, but after a really low carb breakfast, I knew I'd be able to stay under 19 for the day. It also looks like they have similar salads at Chili's and other restaurants.
Bad afternoon – I worked until 6:30. At 5:30, that damned Halloween candy bowl at work called my name. I ate a peanut butter cup and 9 whoppers (actual circles of candy, not packages).  I have no defense. I do think a salad doesn't stick with me long enough to ward off the temptations. Whatever. I guess I'll just have to plan ahead in case I'm tempted again tomorrow – drink a lot of water and eat almonds in the late afternoon?
Dinner – home late again. Rick didn't feel like cooking, so we stopped to pick up a rotisserie chicken. Again, I was tempted. I had already eaten candy, so how about some macaroni salad on the side? NO NO NO. Rick didn't buy it, and I made cauliflower mashed potatoes instead. Wonder why this is so difficult lately.
Oh, here's a tip I figured out in the past few months. I really like the cauliflower mashed potatoes, and I really don't like cooking very much (in case you didn't figure that out). I now buy small frozen packages of cauliflower and have about 4 on hand. I use the same recipe as I have posted here, but here are the amounts of the ingredients I use with this size package….
Easy peasy cauliflower mashed potatoes – open one bag of cauliflower, pour in bowl, microwave 5 minutes. Put the cauliflower, 3-4 tbsp of cream cheese (definitely less than half a package), and one tbsp of butter into a food processor. The cauliflower should be steaming hot to melt the cheese easily. Process and eat. One package makes a little more than 2 servings. If Rick doesn't eat his, it warms up well the next day.
Well, that quick recipe was a life savor, and I avoided the carby macaroni salad. I ate about 6 ounces of chicken with the "caulitatoes." Dessert was 2 squares of chocolate with natural peanut butter.