Category Archives:
buffalo chicken salad keto
Total weight loss: 39 1/2 pounds
I cooked 3 scrambled eggs for breakfast and nukes some pre-made bacon. It was quick and I had time to relax before work, although I missed the waitress pampering me.
I ate 2 beddar cheddars and some almonds for lunch in the late afternoon.
After work, we were planning to have Cincinnati chili, but Rick didn't start cooking the sauce early enough. He was out working on cleaning out the garage and forgot. Oh well. It was almost six, and we made the executive decision to grab something quick. We pass Big Boy on our route, so we went there. I do love that buffalo chicken salad. I have to admit, the time I goofed and ordered it with the regular chicken tenders, it was tastier. However, the grilled chicken is much lower carb and it is good as well.
I ate an Adkins chocolate coconut bar for dessert. Oh, and I drank a glass of red wine. Still on track.
We eat out a lot. It's just a necessary part of our lifestyle – and something we enjoy. Combining a full-time job and with owning a small business means we are working almost around the clock. After eating at Big Boy, I spent about 3 hours on the computer working on client projects and bookkeeping for our business. Having dinner out is a nice treat between the day job and the evening work.
That said, it really is fantastic that there are so many delicious low carb options in so many restaurants. And if it'there aren't readily apparent options, there are always choices that come with bun, potato, or tortilla that can be substituted for something better. If that fails, remove and toss the offending carby product.
A coney dog with no bun, a burrito with no tortilla, a burger with no bun, spaghetti squash instead of pasta, cauliflower instead of potatoes – all these options have become second nature to me by day 322. I can do this. Once the weight is off, I can also maintain. Carbs are not a necessary part of my diet. I just need to remind myself of this every now and then. Here's to "re-losing" that 2 pounds I gained over the past month.
Total weight loss: 41 1/2 pounds
We went to the diner for breakfast, again. I had the usual grilled onion and cheese omelet with bacon.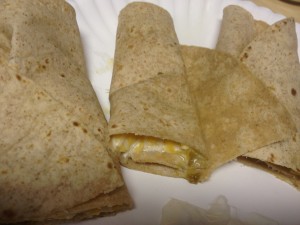 For lunch at work, I went back to an old stand by. I love Mexican food, and I concocted a simple yummy and quick lunch. Two low carb tortillas (3g each), a handful of shredded cheese in each. This time, I also added 3 dollops of cream cheese, just for the heck of it. I microwaved them (open) for about 1 minute and a half, then added a few sliced jalapeno peppers to each and ate with a sour cream garnish. For some reason, I don't like the peppers as well when cooked inside the tortilla, so I add them last. Quick, a bit spicy, and low carb. Yum.
I worked late and I was famished, but I didn't feel like cooking. We passed fast food places and restaurants on the way home, but nothing appealed to me. I really didn't want a sit-down restaurant meal, but I didn't want a processed fast food meal, either. As we passed Big Boy, I was tempted to order a buffalo chicken salad to go, then realized that I had all the ingredients at home, and the only cooking required was the chicken tenders. I decided to give it a go.
I thawed a few chicken tenders in hot water, then sauteed them in oil until cooked, then sliced it into smaller pieces. I had one of those big plastic bowls of mixed greens that Costco sells, so I tossed some of that into a bowl, topped with chopped onions and chicken, drizzled buffalo hot sauce on top, then ate the salad with a side of blue cheese dressing. Oh, and I had no crumbled blue cheese, so I used feta instead. It was as delicious – or more – than the restaurant version!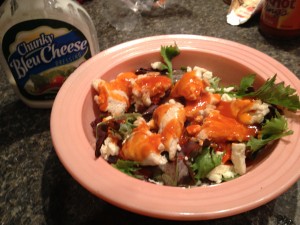 It seems to get easier and easier to come up with quick keto-friendly dishes. I guess when you do something for nearly a year (!), you learn lots of tricks. There is no need to pay $8 or more for the carryout version when this recipe is so easy.