Category Archives:
Baconzilla on keto
Total weight loss: 21.5 pounds   Next weigh-in: Saturday, April 7th
What a way to start the week. I had a 3-hour long dentist appointment: one crown and one new filling. By the time I left, I had a numb mouth and a ravenous appetite.
On the way to work, I stopped at Checkers for a Baconzilla to go. I knew it would be a while before my mouth was functioning, but I wanted to be prepared for lunch. When I arrived at work, I ate a low carb yogurt to hold me over until the numbness was gone.
Around 2, I ate the burger with no bun, and I ate some almonds, as well.
After work, we had some Palmerworks business to attend to. We hadn't gotten around to opening our company bank account, so we stopped at 5/3 Bank to do that. We stopped off at home afterwards and I ate another handful of almonds to tide me over until I had dinner at Albert's trivia.
I usually order the grilled chicken salad, but my friend Jim pointed out that the crab-stuffed mushrooms appetizer looked like all low-carb ingredients: mushrooms, crabs, and cheese. I ordered them and they were really delicious. I donated the garlic bread to Jim. Keeping it honest, I also had one of his steak fries. I ate it in 4 very slow bites. LOL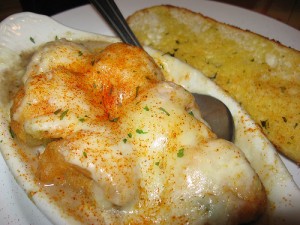 When I returned home last night, I discovered a problem. As I attempted to enter my dinner into myfitnesspal.com, I found a HUGE variety of numbers for the amount of carbs: everything from 3 grams of net carbs for 3 mushrooms to 10 grams for ONE. I started wondering…did they contain bread crumbs or some other high-carb ingredient I hadn't thought of? What about the carb count of crab vs. KRAB?
How do I truly know if there are any carb-laden ingredients in anything I order at a restaurant?
I suppose those are the chances one takes when eating out. Keeping track of carbs is so much easier when I cook a dish at home, but neither Rick nor I have had time to cook this very busy weekend/week. I start my "vacation" Friday, so I'll have some time to get a few dishes together for next week. I'd like to try a low-carb crock pot chili recipe I found online.
I ended the day with low carb chocolate mousse.