Category Archives:
grilled cheese
Total weight loss: 41 1/2 pounds
After the usual breakfast at the diner, I headed off to work. I only needed to work until 1:30 because I worked late a couple of days this week. Rick called and offered to take me to Bonefish Grill for lunch to make up for a "bad vacation weekend" as he called it. It's true, Thanksgiving Day/birthday was great fun, but driving up north and back in two days, followed by an upper respiratory ailment did make for a short and awful vacation.
But I digress. We stopped by the Apple store to pick up a new battery for my Macbook, then headed to Bonefish Grill. We were both very hungry since breakfast was at 7:30 am. I am not a fish lover, but I do really really like their shrimp tacos. Unfortunately, the sign on the door said they opened at 4!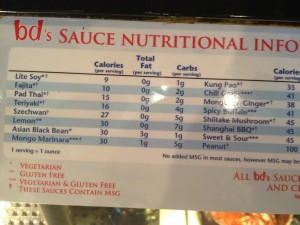 What to do? Well, if you read the title of the blog, you know the answer. Brandon has been telling me that Mongolian Barbecue is a great place to eat on keto, since they now labeled all their sauces with nutritional content plus offer lettuce for wraps in place of tortillas. We decided to check it out.
I loaded up my bowl with chicken, shrimp, onion slices, and mushrooms. Brandon recommended the Asian black bean sauce. I know beans have carbs, but the label says 1 gram of carbs per ounce. Sounded good to me! I added a bit of garlic and waited for the griller to do his work.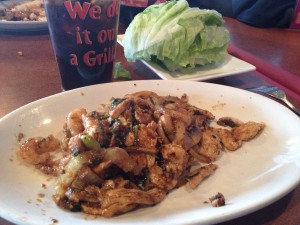 It was very very very good. It was one of my favorite keto dinners to date! Rick liked his alot too. I went for seconds, and didn't change a thing. It was spicy, nutritious, and delicious. We didn't take the waiter up on the offer to take a full dish home in a carryout container for only $2.49. I was full and it didn't appeal to me, but the next day, I rued that decision. It would have made a cheap and delicious leftover meal on Saturday at home. Oh well. Next time.
I do have to say, the only spoiler was trying to roll up a lettuce wrap around a portion of my meal. It was just too soggy to handle. I ate the meal with a fork and ignored the lettuce altogether. I also ignored the bowl of rice. I know it is deceivingly delicious looking. In reality, I didn't need it as filler to detract from my flavorful dish.
All in all, I would say this is in my top five low carb keto meal choices when eating out. In fact, if I could find that Asian black bean sauce, I would cook this at home in our wok at least once a week. So far, I have scoured Amazon.com and other sites, but many of them have similar looking sauces without any nutritional info. I'll keep searching.
Weight loss: 14 pounds
Next weigh-in: Saturday, Feb., 25th
Back to work yesterday. I started the day with my usual egg dish.
Snack at noon was a handful of almonds.
Lunch was a low-carb yogurt.
I was pretty hungry after work, but it was trivia night, so I had no time to eat. I found a Slim Jim and had that to hold me over (2 carbs). There aren't a lot of options at the bar, but I knew I could get a big salad. Since Jo wasn't planning to eat the side salad that came with her calzone, I ate hers. It was small but filling….for a time.
After getting home, I decided to try an idea I had last week: using the new foccacia bread in a grilled cheese. I butter both sides, slapped on some Dubliner cheese and grilled it. The results were disappointing.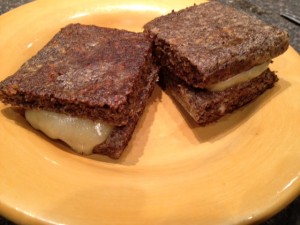 The sides of the bread didn't grill well. They were sort of a semi-blackened cake. The flavor was bitter, and I didn't enjoy it at all. However, I ate both just to get some nourishment. You win some; you lose some. [literally, I hope]
Rick was craving his dessert, so I made some low-carb mousse.
The past couple of days have been disappointing in comparison to the first few weeks of delicious menus. That topped with a zero weight loss have made me less than exuberant about the plan. I'm going to continue, because I know if I prevail, I'll continue to lose. I also feel good and my clothing fits much better. I decided to have tacos for my next dinner, to regain some of the enjoyment I had when I began the keto plan.