Day 38: Indian food on the keto plan
Total weight loss to date: 12 pounds
Next weigh-in Saturday, Feb. 18th
Yesterday didn't start well for my nutritional intake.
We were out of sausage, so I opted to take leftover Cincinnati chili w/ squash for breakfast and grabbed a pack of hotdogs for lunch. I decided I could put some of the chili over the hot dogs to spice them up a bit, since bunless franks are a bit droll.
When I got to work, I discovered that the microwave was broken. Ok. I can adapt. I thought I'd make the hotdogs on the toaster oven for breakfast instead. Only there never was a good time. We had meetings, I had deadlines, and I never got back to the kitchen for breakfast.
At 2 p.m., I went back to make those hotdogs and found a new microwave, not yet installed, but set up for use. I ate the Cincinnati chili.
Rick called about 4 pm with a dinner idea he discovered while down in the pantry. Last year, he built himself a fabulous larder in the back corner of the basement. It's pretty barebones, but it does have overhead lighting and lots of built in shelves where he stores cases of food or paper supplies he buys at Costco or onsale at Kroger. I also buy alot of our staples on Amazon through "subscribe and save," so we had need of a place to store these items.
He was getting something from the larder and noticed my packets of Kitchens of India butter chicken seasoning paste. I love this product! It's about as close to the traditional Indian restaurant dish as I've ever had.  Lo and behold, one serving [the packet makes 4] is only 5 grams of carbs! Needless to say, I was a happy gal.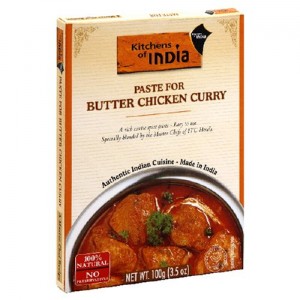 When I arrived home that evening, I had a glass of cabernet while waiting for a pound of chicken tenders to finish thawing. I usually make the meal on the stovetop, but discovered it can be made easily in the microwave – my kind of cooking!
I cut the chicken into bite-size portions. I threw those, the packet contents, 3 tbsps of butter, and a cup of water into a covered glass dish and set the micro to 22 minutes. WRONG! I sadly discovered it was supposed to be set at 22 minutes on MEDIUM. Oops. It was pretty dried up, and less appealing that usual, but DELICIOUS.
While the chicken was cooking, I set out online to discover what to use in place of rice. Cauliflower, of course. Processed it with the grater blade on my food processor, put in a covered glass dish, and put it in for 5 minutes after the chicken was finished.
I topped the "rice" with my somewhat dried out chicken, and added some sour cream. What a tasty treat it was!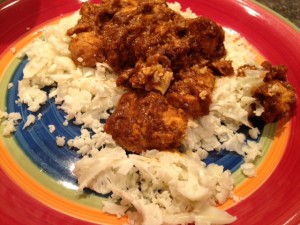 I took a picture for  the blog, and discovered even better news! There are 2 grams of fiber in a serving. My net intake for 2 servings was only 6 grams of carbs [not including the cauliflower]. WOW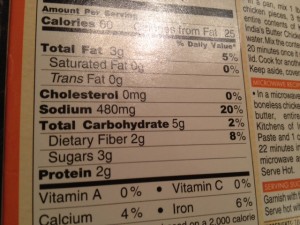 You can bet this will become a weekly staple of my eating plan. Next time, I'll be careful to cook it correctly, so I end up with some of that savory sauce instead of the dried up [but did I say DELICIOUS?] meal.
I'm sure glad Rick took the time to investigate. He knows how much I like this dish, and his thoughtfulness made me a happy gal.