Category Archives:
keto snacks
Total weight loss: 41 pounds
Well, we did it again. We went to the diner for breakfast. It was another nice relaxing outing before starting the workweek, but we do have to stop. It's a bit extravagant on our budget.
Breakfast – cheese/onion omelet and 4 pieces of bacon
Lunch – once again, breakfast kept me full well into the afternoon. I was sure to drink lots of water, and I had an almond snack around 2.
I left work by 3:30 in order to get more done on the move before trivia started at 6. We unloaded some of Brandon's things from the truck, but after that, neither of us felt like going over to the house. Instead, I made a list of grocery items for Rick to pick up and I worked on my computer backups and server issues while he grocery shopped.
I'm trying to plan ahead and make some interesting keto recipes. I want to bring back the sense of excitement that I had when I first started the plan. I saw one idea for making a fake lasagna using spaghetti squash. The recipe called for marinara sauce and it was a little steep in the carb grams for keto. Rick checked out tomato sauces and diced tomatoes. He found diced that were net carb zero! and sauce that had 4g of net carbs (1/4 cup, I believe). The plan is for Rick to make a marinara sauce during the day, and I'll make the squash and layer up some lasagna after work. Fingers crossed that this turns into something edible!
Back to the journal. For lunch, I brought leftover steak and cauliflower mashed. Ended up that I had about 4 bites of each left in the bowl, so I didn't eat much. I drank another 2 glasses of water.
I didn't eat again until trivia at Albert's, where I ordered my traditional grilled chicken club salad with blue cheese. I haven't been to trivia for a couple of weeks, and I sure missed this salad. My coworker and trivia team member, Jim, ordered a basket of steak fries. Sigh. I LOVE Albert's steak fries. I decided to ignore the basket and eat my salad, then see if I was still tempted after eating. By the time I finished, his basket was empty. WHEW!
However, there was also a bucket of Halloween candy on the table. At the very end of the game, temptation overcame me and I ate 2 mini peanut butter cups. I'll sadly check out the carb count now. . . . .
11 grams
Well, I may not have been knocked out of keto (if I'm even back in, after eating the churros on Sunday). I'll have to use a keto strip later to find out where I stand.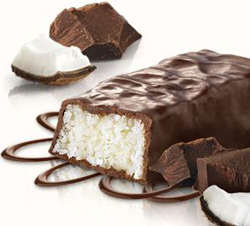 That was it for the day. Oh wait. I lied. I ate an Adkins coconut bar while watching The Good Wife.
I do have to comment on something I've noticed this week: my pants are getting baggy! (and I only recently achieved going down to this size). And my rings are loose. How annoying, NOT!  KETO IS GREAT!