Category Archives:
keto appetizers
Today's weight loss: ZERO
Total weight loss: 21.5 pounds   Next weigh-in: Saturday, April 14th
AARRRGGGHHHH.
That was disappointing. Was it the wings on Thursday? Am I not consuming enough water? Was it too many alcoholic beverages? I know I'm not eating enough veggies. Is it because I'm not exercising? Is it the almonds?
I'm tired of agonizing over what I could be doing wrong. My clothes are getting looser. That's a plus. But, man oh man, I would sure love to see more progress when I get on the scale.
So, I'll just keep keeping on. No alternative.
Yesterday was my numero uno vacation day. We started out eating at a new diner. I ordered the cheese omelet with onions and a side of bacon. It was great! The cheese/onion combination was very "pieorgi-like," so I asked for a side of sour cream and it was even better. The bacon was also thin and crispy, just the way I like it. I finished my Friday NYT crossword, and declared it a wonderful beginning to my vacation week.
>We were off on lots of errands after that. When we got home, I wasn't really hungry for lunch, so I had some almonds.
Rick napped, I relaxed and watched some "The Good Wife" episodes. It was nice just hanging out for a couple of hours.
Later in the evening, I joined Rick out on the deck. I wanted to have a vodka/diet drink, but hadn't eaten much, so I made some ham, cream cheese, and onion pinwheels. You know, the kind mom made in the 60's. You roll them up, then cut them and they look like little pinwheels…or eyeballs, if you ask me. Anyway, it was something I thought of the other night when trying to find a conveyance to get the cream cheese into my mouth without just eating it out of the package. Apparently, my family members think it's an odd thing to do.
For dinner (at 9 pm!), I chopped up a bit of the chicken Rick had grilled. I put it in a large low carb flat bread and topped with cheese, onions, salsa, and sour cream. Those are my go-to toppings for just about everything.
Dessert was 2 pieced of 70% chocolate topped with organic peanut butter. I think I went over about 4 carbs.
Today's weight loss: 2 pounds
Total weight loss since 1/12/2012: 6 1/2 pounds
Yesterday, I got a very late start on breakfast.
My husband Rick and I have my 88-year old dad stay with us every Friday thru Sunday. He suffers from Alzheimer's and can't live alone. By the time I got him up, fed, showered, and settled in his room with some fresh clothes, I didn't get breakfast until 1:30 p.m. There were some major difficulties during shower time…he was unable to get out of the tub and landed on the floor. He wasn't hurt; he just sort of slowly slipped down to a sitting position. Nonetheless, my husband and I had quite a time trying to maneuver and lift him.
Once that trauma was over, Rick went off to get some groceries to aide in my new keto diet. He's a very supportive husband and has tried each of the new recipes with me. He is also the grocery shopper and cook in the marriage, so with him on board, my chances of being successfully carb-free are great! As the "not-cook," I am surprised to find I'm enjoying playing around with some of these wonderful recipes I've found online. Maybe this cooking thing isn't so bad, after all.
So, at 1:30, I experimented with my nuked cheese crackers and enjoyed a relaxing brunch.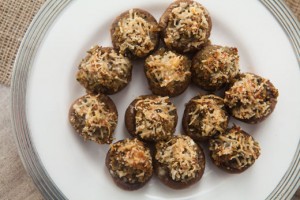 Because I ate breakfast so late, I never really had a true lunch. Dinner was stuffed mushroom appetizers, then 2 pulled pork tacos. (See a picture in my last post.)
Rick altered his classic mushroom recipe by using crumbled pork rinds instead of bread crumbs. He also left the sweet spicy hot sauce off (8 carbs a tbsp!), and I dipped mine in a small bowl to get a bit of the flavor without all the carbs.
My energy level is fantastic. I never feel like cleaning the kitchen after dinner, but I spent an hour and a half tidying up last night. It sparkles! I can't seem to stop moving. So far, I'm a big fan of the keto eating plan!
Yesterday's meals –
Breakfast: 6 "cheese-its" with avocado/spinach/parmesan dip
Lunch: 4 stuffed mushrooms with 2/3 tbsp of sweet/hot sauce
Dinner: 2 tacos made from Costco pulled pork, provolone cheese shells, grated cheese/onions/Taco Bell hot sauce
Snack: 2 pcs Lindt 79% chocolate and one glass of cabernet
Splurge: 1 diet coke