Category Archives:
pizza
Total weight loss: 31 1/2 pounds
Yesterday the entire work force got together for an emergency "fire" meeting at my boss's house. On the way, I downed a quick low-carb yogurt and drank lots of water (I always seem to forget the importance of that).
At lunch, we were served some delicious pizza and salad. Oh yes, I forgot I DID have 2 mini donettes for a snack. It was not a good choice, but it was way way better than eating all the other bad choices that were being offered.
Back to the pizza. It was a chicken, pepper, very low sauce type, not sure what it was, but it was very good and the toppings were thick. I didn't feel deprived not eating the crust.
I also had a small salad with a raspberry vinaigrette dressing. It was 7 grams of carbs per tbsp, so I ate very little.
After the meeting, Rick picked me up and was feeling poorly. He had a really high temperature. We headed home, where I had an almond snack and worked a bit. It sure is nice not rushing over to work on the rental house.
For dinner, I had 2 beddar cheddars and some of the leftovers from Rick's meal. He made basmati rice (which I skipped), and tried a new kind of Indian food that was very low carb. It was Passage to India brand, Korma simmer sauce, and it was very good, even all by itself in my little bowl.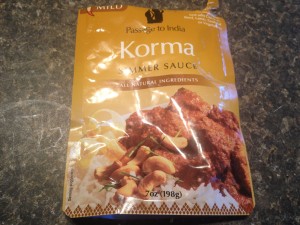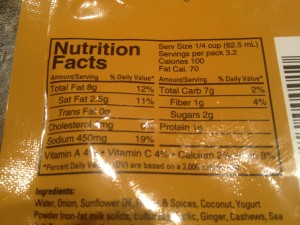 Dessert was the usual fake peanut butter cup.