Category Archives:
low carb hummus
Today's weight loss: 5 1/2 POUNDS!
Total weight loss: 31 pounds
Wow. Getting back on track works like a charm! I stayed under on my carbs ALMOST every meal. I said "no" to a lot that I was tempted to eat, and I got a few laps in the pool. I knew my clothes were getting looser, so maybe some of last week's weigh in debacle was water weight or something.
Yesterday was Friday and I didn't realize I had no more yogurt left in the fridge at work. I substituted with some almonds and water. YUM
Lunch was a nice outing on a sunny day. We headed to a new coney place and I ordered two coney dogs with no bun. All totaled, the bill only came to $8 with Rick having a coney, fries, and soup. We'll be back!
I wanted to swim before dinner, but I was pretty hungry. We decided to skip paying $40 to $50 at US12, where we often celebrate the end of the work week. I usually get 3-4 drinks, Rick gets 3-4 beers, and we have steak bites, plus whatever Rick orders. I really like sitting out in the sun and watching the traffic go by, and I especially like not being at home where I can see all the things I haven't done. LOL. It's a plus that someone waits on us, too. HOWEVER, we went to the grocery store and picked up some low carb snack items, and I knew I had some zero carb bread at home. Oh, and I also found some 2.6 carb beer. I'm not a huge beer drinker, but summer brings out a little craving for a beer once in a while.
Once home, I jumped into my bathing suit and quickly assembled a low carb appetizer platter. I cut several pieces of the disappointing, tasteless bread into small squares and topped them with sliced tomato, and mozarella cheese. I drizzled the plate with balsamic vinegar. Then I put the rest of the squares into a bowl with 2 side dipping dishes: avocado spinach dip and spinach hummus.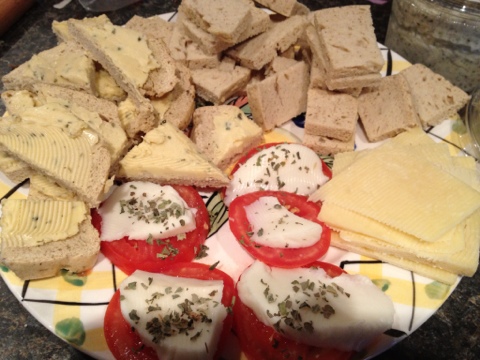 I grabbed a low carb beer and headed out to join Rick on the deck. It was very very nice (and MUCH cheaper!). The added bonus was jumping into the pool when we were done eating the appies.
The grandkids came by for a swim. After they left, I was tired and hungry. I heated up a cup of taco meat, topped it with cheese, sour cream, onions and jalapenos. YUM. Dessert was 2 squares of 70% chocolate and peanut butter.
Weight loss: 15 pounds; next weigh-in: Sat, Mar 17th
Now that our textbook is off to the printer, the pressure is off a bit. However, now it's time to get our software finished. I was running late in the morning, plus we were out of breakfast sausage, so I grabbed a yogurt.
Around 11, I was getting hungry, but Rick was out delivering a client's newsletter, and I wanted to wait for him to finish and meet me for lunch. We didn't get to the diner until around 2 pm. I ordered 2 chili dogs. I never bother asking restaurants to remove the bun, since that always seems to get complicated (don't know why). The buns did make nice little beds to hold my dogs and chili. I treated myself to a Diet Coke as well. I knew it would be a long day and I wasn't getting off work until 7 pm.
Once I finally arrived home, I heated up some Indian butter chicken and the rest of the cauliflower from the fridge. Even after dinner and mousse, I still had carbs left again. I have to plan better.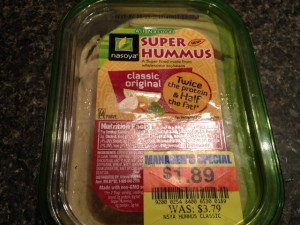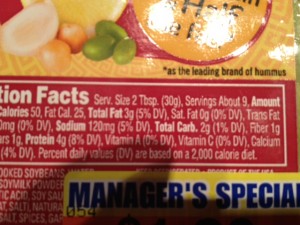 One discovery I forgot to blog about was in the "healthy" isle at Kroger. In the refrigerated section where they keep the soy milk, I found hummus that had only ONE  net gram of carbs per 2 tablespoons. …and it was on sale! I microwaved little piles of cheese to make some handy little crackers. The whole snack was only the amount of carbs in the hummus, because the cheese was zero.