Category Archives:
Greek yogurt
Lost: 0   Total weight loss (in one month): 13.5 pounds
Another day, another zero. The scale isn't moving at all, but I'll keep up the fight.
And fight it was yesterday!
No time for breakfast, so I ate a handful of almonds and decided to try Arby's for lunch. Various sites said they have a low-carb option – a beef and cheddar on a piece of lettuce = 2 carbs (or just beef = 0!). I thought it would be a simple thing to order, but when I asked for my beef and cheddar on a lettuce wrap, the cashier suggested that I must mean the one they sell in a tortilla-like wrap. No, I explained that I didn't want bread at all.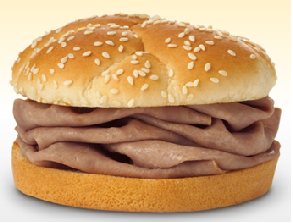 She made it a special order, asked if I wanted chopped lettuce or a leaf. I chose leaf. She was very pleasant about it, but it was apparent this wasn't a common menu option. I added a side salad and sat down.
A few minutes later, they brought me my order. Sigh. It was a pile of beef on a piece of lettuce. Apparently in all the confusion, she didn't hear the "cheddar" part of the order. Instead of going and asking for some probably chemical-laded process cheese, I opted to add a couple carbs of Arby sauce. It was an okay lunch, but nothing to write home about.
After settling my dad in at the nursing home, and going back for a couple more hours of work, I was hungry again. It was still a couple of hours until trivia, so I had another handful of almonds and a cup of Greek yogurt with peanut butter.
For my next "carb battle," I decided to order the fajitas at trivia. I asked the waitress to put the tortillas in a to-go container. A few minutes later, she dropped off a large basket of nacho chips and salsa. Little did I know, it comes with the meal. I ate one, then dumped the rest into the to-go container.
Dinner was served. A huge plate of which 2/3 was rice and refried beans, covered in melted cheese. Sigh. I can't get away from the carbs! They attack from all fronts! I asked for another to-go container and dumped the entire mess into it for Rick to eat later.
The chicken that remained after the "battle" was pretty tasty, but not as good as the fajitas I had a couple of days ago. It was at least a filling dinner after another day of hit or miss eating. Tonight, Rick and I plan out a couple of weeks' menus.