Category Archives:
coney dogs
Total weight loss: 31 pounds
Tuesday morning's usual schedule – I went to work and ate a low carb yogurt.
I was debating what to do about this 6-inch diameter bug bite that developed on my forearm over the weekend. It just wasn't getting any smaller.
Rick was at a client meeting. Palmerworks has another monthly newsletter job. Rick enjoys creating those as much or more than he does making websites, so I was happy for him. I texted and asked him to pop by and get me around lunchtime and take me to a local urgent care place in Garden City.
I ate some almonds to tide me over. He arrived around 1:30, and I decided to get lunch first. I know that skipping meals always makes me more tempted to eat something risky.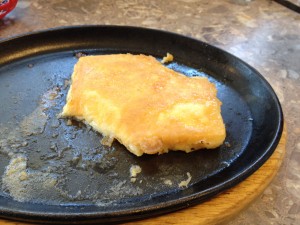 We went to GJ's Diner, and I had an urge for something different, so I ordered a flaming cheese saganaki appetizer. OPA! Rick ate half. Depending on what website you read, a whole order is from 3.9 to 20 or 30 grams. Livestrong.com says 3.9 with 1.7 grams of fiber. I like that one! This didn't appear breaded in any way, so I think my portion was under 5 grams.
I also had one coney dog sans bun.
Off to the medical place. Turns out I probably don't have Lyme Disease. I got some antibiotics and steroids to take for a week. It was a nice, quick, well-run place. I have a sort of "doctor phobia," and NEVER go. I could be on my death bed and still try to make tea tree oil cure me in some way (it didn't work on the swelling bite; then again, maybe I didn't give it enough time!). Anyway, the nurse and I were talking about low carb diets, which many of the staff had just started. I told her about pasta, rice, and potato substitutes and they were reading my blog when I left. Odd feeling knowing that someone actually reads this rambling journey.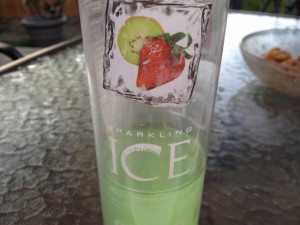 Dinner: I had to work until 6:30 to make up the hours at lunch/doctor. We don't have sick time at my place of employment, and I really didn't want to dip into my vacation time. I arrived home at 7 to find 4 young children in my pool (2 grandkid plus friends). Before swimming, I sat on the deck with Rick and Cindy and had a nice relaxing low carb drink. Rick found these at Kroger and they have ZERO carbs! It's called Sparkling Ice. I love the lemon/lime flavor. It's good with a splash of vodka, too!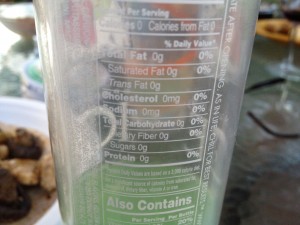 After swimming, the kids went home and I warmed up the chicken kabobs left over from Sunday. I followed it with 2 square of 70% chocolate.
Oh, as to the title of this blog? Whenever I had a bad day, in terms of things like having to go to the doctor, or any other activity I really dislike, I would always reward myself. The reward was usually something like a chocolate milkshake after a dental visit, or buying a bag of peanut butter M&M's after a doctor appointment. As I was waiting for my prescriptions in CVS, I remembered that. I started to head towards the candy aisle. Suddenly, I took stock of how good it felt to be wearing a smaller size, and the hopefulness I feel when I think that 31 pounds off since mid-January could mean 60+ pounds off by Christmas. The 70% chocolate squares I eat are enough to satisfy me, so why play around with more carbs? I'm really proud that I can think through most of these old temptations. I think I can do this!