Category Archives:
Alcohol on keto
This week's weight "loss": +.5 pounds
Total weight loss: 40.5 pounds
Today was weigh-in day. I gained .5 pounds since last week. I'm not thrilled, but I'm used to the ups and downs. In order to keep my spirits up, after weighing I put on the smallest jeans I own…and they fit. That made me feel a little better.
Yesterday was Friday. Again, I had no time for breakfast. My son, Brandon, and his new bride, Lindsey, found a house they may bid on, so I called Rick and asked him to take me by on lunch. We wouldn't be going until 1 pm, so I ate some almonds and 1/2 slice of lasagna around 11 am.
After checking out the house – which we both like very much – we went to the Senate Coney Island. I ordered 2 coney dogs and didn't eat the buns. Rick didn't order fries, so no temptations there.
Since I had a few long lunches this week, I needed to work until 6:30 to achieve 40 hours. When Rick picked me up after work, I was really tired and wanted to splurge and indulge in something to fill the emotional void. We debated the restaurant choices, and ended up at Angelo Brothers Italian restaurant. I had been there years ago for a Christmas party with my former coworkers at the school system. Rick had never been. I was really hoping I would find something satisfying AND low carb. I was thinking chicken marsala or some such item.
I actually did find a possibility: chicken piccata. I'd never had it before. When I visit an Italian restaurant (pre-keto), I usually go for something with lots of cheesy pasta. The ingredients listed for the chicken piccata: thin-sliced chicken breasts, garlic, butter, white wine, and mushrooms. Sounded good, so I tried it. I skipped the carb-laden sides and asked for extra mushrooms. The side salad was just a lot of iceberg lettuce, but it helped assuage the hunger while I waited for my meal. So did the glass of red wine.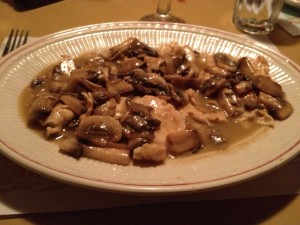 I ignored the bread basket and dug into the chicken. It was so so so delicious. I checked the carb count afterward, and it ran from 5 to 20 grams per serving, so I'm not sure how well I did. I'm sure there was flour or cornstarch involved; however, I do know that I will be trying a low carb version at home, and I'll just leave out those items. Rick took about 5 tastes of mine dinner. He loved it….even better than his pizza. The two of us will experiment with the new recipe soon. In the mean time, I'm proud of myself for picking something as low carb as possible, and not pigging out on pasta, pizza, and bread.
Once home, I had an Adkins bar for dessert.
I think I'll go without the Adkins treats this week and see if that did impact my 1/2 pound weight gain. It's not a real scientific experiment, but it may give me some indication if I lose a bit more next week after not eating them.