Day 19: Cincinnati chili – another favorite adapts well to the keto plan
Lost: .5   Total weight loss: 12 pounds
Since our truck is back in the transmission shop, Rick and I were stranded at home today, and I think we both enjoyed it very much!
It was a snowy cold Michigan day, and our NY Times was delivered on time, so we each whipped up a breakfast of choice and hung out with the paper over our meals. I chose to make a 2-egg omelet of cheese and a bit of onion. I topped it with sour cream my son and his fiance picked up for us from Calder's Dairy. Two breakfast sausage patties completed the meal.
I wasn't hungry for lunch, so I have nothing to report.
Dinner was Cincinnati chili experimentation time. As I reported yesterday, I already made the chili part with a pound of ground turkey. All I needed to do today was cook the spaghetti squash. My son Brandon reported that he had a lot of difficulty cutting and cooking his a couple of weeks ago. The last time I made it (for spaghetti alfredo), I had no difficulty with it at all.
Well, I guess I was just lucky that time. I used the same process (micro'd one minute before cutting) but I could NOT get my knife to easily divide this squash. Perhaps it has to do with the ripeness?
Anyway, after finally severing the squash into about 5 pieces, I put them face down in a dish with 1/2 cup of water. I cooked the squash in the microwave for 6 minutes, then 6 MORE minutes, then 6 MORE minutes. Finally, it was ready to scoop out. I repeated the process with another squash, because I wanted to be sure to have enough to match the huge pot of chili, which would serve us both a few portions in the next couple of days.
While waiting for the second squash to cook, I made deviled eggs out of some eggs I had boiled while breakfast was cooking. I'm starting to get the hang of cooking ahead and making more than one meal item at a time. Rick and I each had an egg while waiting for the second squash.
When the squash was all finished, I made us each a traditional plate of Cincinnati chili: 1st layer – spaghetti (squash); 2nd layer – grated cheese; 3rd layer – chopped onions (just a few for me, carbs you know); and….no 4th layer because beans have too many carbs. I am planning to try black soy beans, but haven't ordered any yet.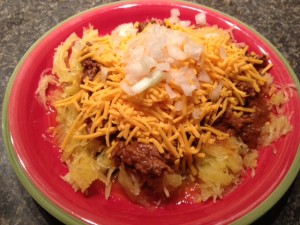 Okay, so it doesn't look as appetizing on squash as with traditional spaghetti; however, it WAS DELICIOUS! I liked it BETTER than the traditional dish. I think the flavor of the squash blended very well with the rest of the components. This was a hit. And it was very very filling. I couldn't eat the entire dish, and I can usually plow through one plate and even another small serving. Rick was very full as well. Must be all that great fiber in the squash.
Looking forward to leftovers for lunch and for dinner one day this week, as well.