Category Archives:
Avocado on keto
Total weight loss: 41 1/2 pounds
Yesterday was Friday. We started the morning at the diner, where I had my usual: cheese and onion omelet with a side of bacon. I was very happy it was Friday, but I knew I had a long day at work ahead of me. Breakfast out was my "pre-treat" to myself.
For lunch, I ate 2 Beddar Cheddars. I had almonds later for a snack.
While I was working, Rick was also working on websites and newsletters. In the afternoon, he cooked up some chicken fajitas and stopped by the grocery store for some low carb tortillas, so I could eat right after getting off work.
I don't know what I would do without his support. He is supposedly "retired," but each day is spent working on our web and print design business. He also took care of a million details when closing the house we sold, does the banking, grocery shopping, and most of the cooking. I might cook something twice a week. Anyway, he has been behind me 100% and goes out of his way to buy low carb foods and find me low carb dinner ideas. My husband is one in a million!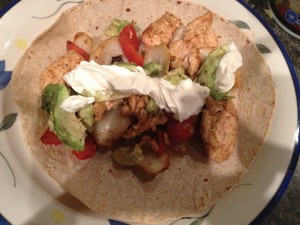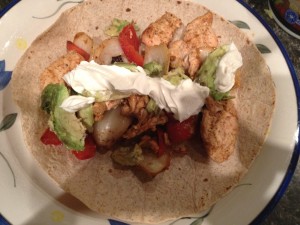 So, back to the food diary. I ate 2 servings of the fajitas, and topped them both with avocado slices and sour cream. They were delicious and low carb. The tortillas are just sliced up frozen chicken tenders with a spicy marinade from a bottle. He uses all different kinds, like Lawry's. Oh my. I just looked at the carb count on the marinade. It says one serving is 4 grams of carbs. Well, that sounds dandy, until I read the details: the bottle contains 24 servings!!! Rick says he uses about a half a bottle, which makes 4 servings when combined with chicken and cut up peppers and onions. That means 12 servings x 4 grams of carbs = 48 total, or 24 grams of carbs if I eat 2 servings, as I did last night. That one meal puts me over carb count for the whole day. Sigh. I guess I'll have to find some other seasoning for this meal.
There have been a few other incidents like this, where I think I'm eating something just fine, but discover later that the meal was overflowing with carbs. The Taco Bell hot sauce in a packet that Rick adds to my morning egg dish is fine. The Taco Bell verde sauce is not. Guess it pays to be more conscious of those hidden carbs!