Category Archives:
pasta substitutes
Today's weight loss: +2.5 pounds!
Total weight loss: 24 pounds. Next weigh-in: Saturday, April 28th
DAMMIT! Gained again!
Saying I lost 26 and half pounds sounds WAY better than 24. I'm guessing it was the 10 or so alcoholic drinks I had last week. They were no carb, but I think they play with my hydration and loss. I did have that one carb-laden muffin, and I skipped a few meals. All in all, I need to get back on track with some healthy eating.
Yesterday was Friday and the end of a stressful and depressing week. My dad is still in hospital, although he is doing better. Rick and I are also trying to finish up the rental house repairs so we can sell it and recoup our investment. I'm back at work, plus we've been doing brochures and business cards for our clients.
Enough complaining…yesterday, I wasn't hungry for breakfast, again. I waited until around 11 a.m, then had 2 Beddar Cheddar smoked sausages.
After work, we went to see my dad, then went back to Albert's to have some more drinks on the patio, but this time, I ordered the steak bites with teriyaki sauce. They were good, but the 2 wings with blue cheese dressing that Rick gave me were even better.
We didn't stay late, since the weather turned overcast and cold. Since I'd only had 2 meals, I was hungry by 8 pm. Rick was eating little pizzas made on English muffins. I couldn't do that, so I decided to improvise and create a meal that would appeal to my need for comfort food.
I heated a small portion of spaghetti squash, then layered it into a glass dish. I topped it with 1/8 cup of pizza sauce, a layer of grated cheddar/mozarella cheese, then a layer of chopped onions. I topped that with a few dabs of cream cheese and I baked it in the oven with Rick's pizzas for about 7 minutes at 350 degrees. I think I'll call it "pizza squasherole."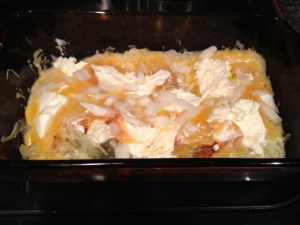 It turned out pretty good, not great. I ate about 3/4 of it, then had 2 squares of 70% cocoa bar with peanut butter for dessert.