Monthly Archives:
October 2012
Total weight loss: 41 pounds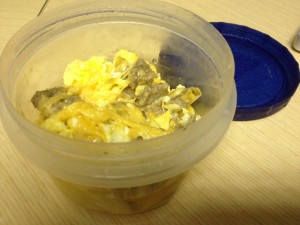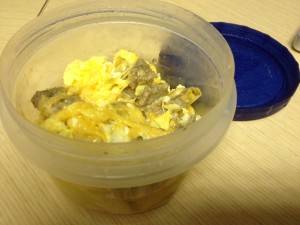 We finally decided not to go out to breakfast. Just too costly. Rick made my "breakfast bowl": 2 eggs, 2 sausage patties, cheese, and Taco Bell hot sauce. He puts it in a bowl, and I reheat, chop up, and eat at my desk. MMMMMMMM. Thanks, honey.
I was going to eat 2 Beddar Cheddars for lunch, but I got a surprise lunch invite from my niece, Marsha. The AUCE Chinese restaurant that we both love is very near my workplace, so I agreed to lunch with her.
I debated if I could do a low carb lunch, or if it was too difficult with the few options that I should just do a cheat meal. I sort of did a blend of both options.
I went to the Mongolian section and made a bowl with chicken, onion, garlic, and a little crab. I asked the cook to use garlic oil – he offered spicy; I said sure. It turned out to be delicious. Unfortunately, the Mongolian counter was at the back of the store, past the crab rangoons and the tempura sushi. Sigh.
So, I sort of did a half and half cheat meal. I had a main course that was low carb, and side dishes that were coated with breading. I do think I'll get some garlic oil and try to make my own "Mongolian" stir fry at home. It'd be pretty easy, and keto-friendly. Always looking for some fresh ideas for keto recipes.
While I was off galavanting with my niece, Rick was home slaving away over the stove – for me! He made marinara sauce with the low carb tomato sauce and diced tomatoes he found yesterday at Kroger. He also cooked a pound of ground up Italian sausage. He was preparing the ingredients for a new keto-friendly, low-carb lasagna recipe I wanted to try. I thought I'd make it pretty close to my Dad's traditional recipe, only using spaghetti squash as the lasagna "noodles."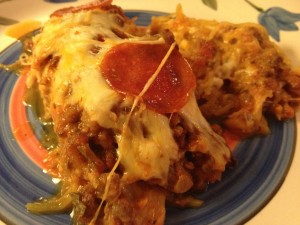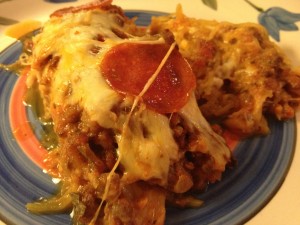 I saw this idea on several low carb sites, but most of the recipes, although low carb, were too high in carbs for keto. Rick did some investigating while shopping and found that a 14 oz can of Del Monte diced tomatoes with zesty mild green chilis was 7g per can, and Kroger tomato sauce was ZERO net carbs per can. He used 2 cans of each in his recipe, with 2 tbsp of olive oil (og), and various ingredients like garlic, 1/2 cup onion (10g), and 1/2 cup of red wine (4g). The whole recipe is posted here.
After work, I cook a whole large spaghetti squash, gathered the rest of the cheeses and ingredients and assembled a lasagna. Approximately one hour later, we sat down to a delicious bubbly authentic-tasting lasagna meal. At approximately 7.4 grams of carbs per serving, it surpassed my wildest dreams. I am no cook, but Rick's marinara sauce is really flavorful and added to cheese and pepperoni, this tasted almost like my dad's traditional recipe!
Here's a picture of the whole pan…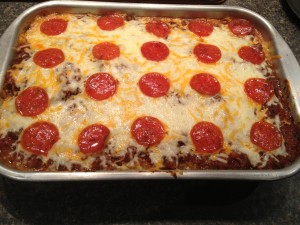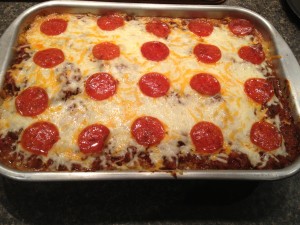 So, dinner was a hit, and I have lots of servings to warm up during the week. This will definitely be a staple of my keto diet, and I'll be making it a couple of times a month. I have to recalculate and be sure I didn't mistake any of the carb counts. For instance, the mozzarella cheese said less than one gram of carbs per serving. Well, if you have many servings, when does that become 1 or even 2?
We each had an Adkins coconut bar for dessert. It was kind of an up and down day in terms of the keto plan, but creating such a keto-friendly pan of lasagna was a real high point of the day.