Category Archives:
steak bites
Total weight loss: 29 1/2 pounds
The day started off well enough, yogurt for breakfast, almonds for a snack.
For lunch, I had a warmed up KFC breast* [please see this comment] and decided it wasn't enough. (I told you, I've been hungrier than usual lately. I decided to have another of my patented BLS on a tortilla. Oops, however, I forgot to bring the tortillas to work. Sigh, okay, I have now invented a different version of the bacon, lettuce, and spinach. This one is in a bowl. And it's MUCH healthier than a KFC bowl!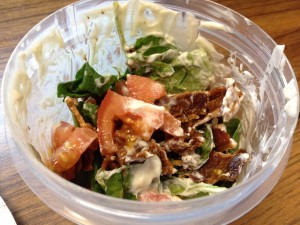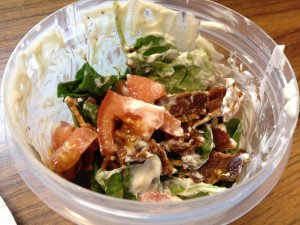 I forgot to mention that I made up a pan of "baked bacon" earlier in the week, so I've had plenty on hand when I need it.
Thursday night is family trivia night. We play at different bars each week, and this week we were going to play at 9 pm at Applebee's. I knew I would be starving by 9, since lunch was at 1 pm. After work, Rick and I went to US 12 for some drinks and appetizers. I had Absolut and Diet Coke with steak bites….doing great on the carbs so far.
Then I went to Applebee's. They have this special omn Margarita's. I said, no. Then I watched my niece Marsha drinking hers and it looked soooo good. I ordered one, then, instead of a healthy choice, I ordered the cheesy artichoke dip with chips. It wasn't great. Why oh why do I never learn? If I'm going to cheat on carbs, I should plan it carefully and not waste my time eating something that is less that heavenly. All in all, the margarita was good; the appetizer wasn't great. I wish I had just stuck to fajitas and water like I did the week before.