Category Archives:
Keto secrets
Total weight loss: 41 pounds [I like typing that]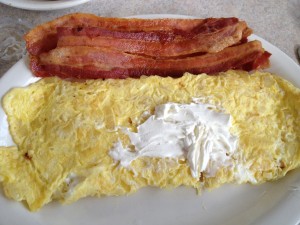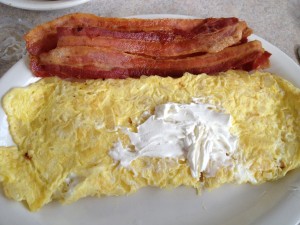 Saturday morning breakfast at the diner – cheese/onion omelet with a side of bacon
We worked on emptying and readying the house we  [finally] sold. We packed and cleaned for a few hours. This stuff seems to multiply. Afterwards, we went to Del Taco. I had the usual macho beef burrito and opened up and ditched the tortilla.
My 2 pounds weight loss yesterday morning buoyed my spirits. I'm sometimes tempted to "reward myself" with some kind of cheat meal, but realized it would be better to save that for when I'm not losing, to perhaps shock my body into responding to the diet. So, I didn't have a cheat meal, but my compromise was eating 1 1/2 cinnamon churros. I have to admit they were good. Now I will look at the carb count…..egad – 21 carbs per churro. So much for being in ketosis. Sigh. So, I had approximately 32 extra grams of carbs yesterday. Not good.
Oh, another tip: carry a "real" fork with you. I carry one in my purse and it comes in handy when I order things like this burrito, or a burger with no bun. I HATE using a plastic fork, and some of those burgers actually break them.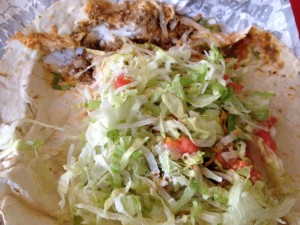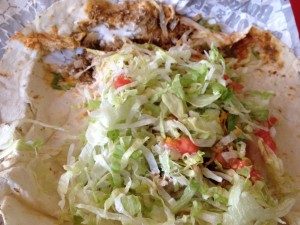 Dinner was legal and delish. Rick grilled steaks. I made the accompanying blue cheese onion cream sauce and some cauliflower mashed potatoes. Before dinner, I cleaned the house, put the tv/pc back in order (the old hard drive had failed), and generally spruced up the place. While cleaning out the sold house earlier in the day, I had grabbed Brandon and Lindsey's lamp set, which they aren't currently using, and I put one on each side of our Ansel Adams print next to the table. It looked warm and elegant, so we ate our gourmet dinner using cloth napkins and each had a glass of cabernet. I had one more glass out on the deck [oh, what the heck? I already ate 30+ carbs of churro earlier – bad attitude, I know].
Dessert was the usual choco/peanut butter low carb treat.