Category Archives:
eggplant
Weight loss: .5 pounds   Total weight loss: 9.5 pounds
Well, the scale finally moved in the right direction. Not that this diet has been hard to "swallow." LOL
Yesterday's breakfast and lunch didn't deviate from the usual pattern. When I find something that works, I stick with it.
After work, my brother took over hospital visiting duties, so I went straight home and continued building my new desk. This thing came with hundreds of pieces, and Rick and I have been assembling it bit by bit since the weekend. When I finished, it was about 7:30 and I was famished!
Due to Murphy's Law, I was unable to quickly get online using my Macbook. I just wanted to find a quick and easy dinner idea. Rick discovered that our two heads of cauliflower had started to mold, so I decided to check out what other veggies needed cooking ASAP.
I cleaned the cauliflower, micro'd and made into garlic mashed potatoes. Then I grabbed one of the eggplant, sliced, and dregged through an egg wash. I dipped the slices in ground up pork rinds (a GREAT breading option!) and fried in olive oil. Once fried, I sprinkled a little shredded mozzarella on top of each slice.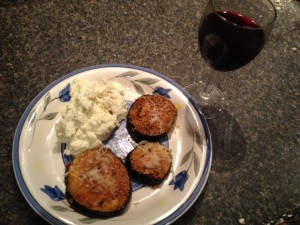 Rick and I enjoyed the meal alot. The fried eggplant was quite tasty. I didn't even taste the horrendous pork rind flavor.
I'm going to try doing this same method with some chicken strips.