Category Archives:
quick meals
Total weight loss: 41 1/2 pounds
Sunday morning and we decided to stay in for breakfast. It was a chilly, but sunny day and it was nice to eat in our cozy home. I had a leftover egg/sausage/cheese bowl that Rick had made for my Friday breakfast at work. I didn't get around to eating it, and it was a perfect easy-peasy breakfast for someone who doesn't love to cook. I ate that while attempting the NYT puzzle. This week's was a bear!
On to the busy day: we went for one last clean out at the house we sold. I spent the day washing out the fridge, washing floors, vacuuming, sweeping, and for the grand finale: carrying old boxes, paints, and sundry items out of the basement. It was good exercise, but I was achy when finished.
We took a mid-day break at the Del Taco nearby. I wonder if that's the last lunch I'll have there, now that the house is sold. I ordered the macho beef burrito and was eating it without the tortilla, when I realized that it had beans in it. The guy taking our order did keep messing up, so I wasn't surprised. I decided to eat it anyway, since I already had planned to have a cheat lunch due to the addition of 2 churros.
Eating the cheat lunch didn't stop me from trying out a new keto-friendly dinner recipe. I think I am getting the hang of being balanced about this plan. I used to be so "all or nothing" that I would have just eaten a lot of carbs for the rest of the day since my lunch consumption was far from perfect. After more than 9 months on keto and nearing the 50 pound mark (woohoo!), I have learned to jump back on the wagon right away.
Chicken piccata ingredients include chicken (duh), garlic, white wine, lemon juice, and capers. I added mushrooms to make it similar to the meal I had at Angelo Brothers a few nights ago. Rick kindly shopped for the ingredients, and even cut the chicken and pounded it flat with a mallet. After that, the whole recipe took me less that 20 minutes to complete.
I sauteed the chicken in olive oil and butter, then transferred to a plate. Then I sauteed garlic and mushrooms, added wine and lemon juice, then added capers. I let this simmer.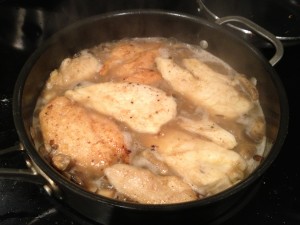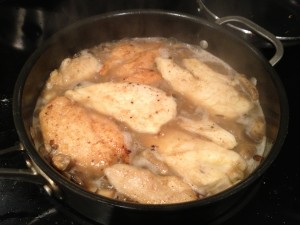 I put the chicken back in the pan and simmered some more. Unfortunately, here's were I goofed up. I decided there wasn't enough liquid, so I added more wine and lemon juice. I think adding these at the end made the recipe too lemony-flavored. I believe these ingredients need to be set early in the simmering stage so as not to be such a prominent flavor. It was good, but not exactly right.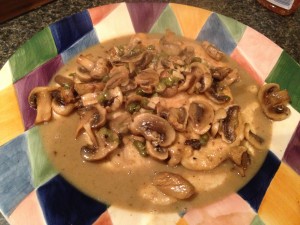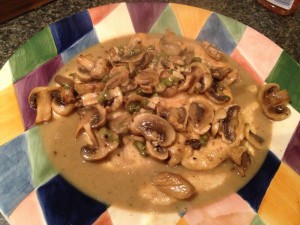 I had some leftover cauliflower mashed potatoes and those made a great side item, since the soaked up the delicious gravy.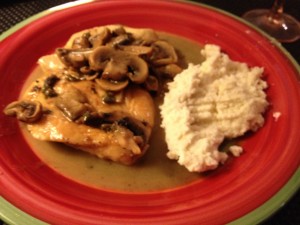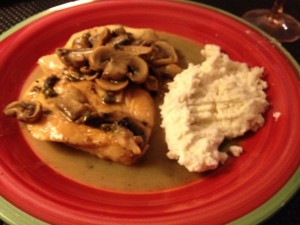 All in all, it was pretty good, but I need to work on it. I was tired from a long day, and didn't feel like cooking, but it was a really nice and quick meal. I'll attempt it again next week and see if I can get the proportions right, then I'll post the entire recipe on the blog.