Day 81: Weigh day – bleck
Lost to date: 21.5 pounds. Today's weight loss: ZERO
Oh well, I was kind of prepared for this zero loss since this journey has been so erratic. I have decided to have a cheat day. Whether today or tomorrow remains to be seen.
I started out yesterday with another looming deadline at work, but I took a few minutes to heat/eat my eggs and sausage breakfast.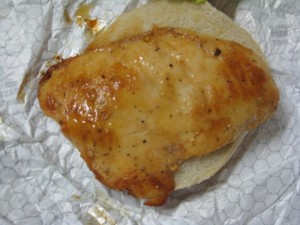 The progress at work was slow, and I didn't get to lunch until 3:30. To assuage my hunger, I had a quick almond snack around 1.
When I finally went to lunch, Rick and I popped in for a quick bite at Wendy's. I had the grilled chicken sandwich and ditched the bun. It was just okay. The chicken was plump, but it didn't have a lot of flavor.
For dinner, I was perplexed. I worked lots of over time and was already nearing a 50-hour week by the time I left work. I was tired and hungry, and still needed to do a little paperwork for Palmerworks before the end of the day. I quickly took care of that, then made 2 cheese quesadillas with Mama Lupe tortillas. I only ate one and a half.
Dessert was chocolate mousse.