Day 109: Drinks and appetizers – keto friendly versions
Total weight loss: 24 pounds. Next weigh-in: Saturday, April 28th
FRIDAY!
I started the morning with low carb yogurt, and I had 2 Beddar Cheddar sausages for lunch.
After work, we went searching for a place to relax for drinks and dinner outside. It's our favorite end-of-the-workweek thing to do. We went to U.S. 12.
I usually order the steak bites, but Rick pointed out the Mexican pizza on the menu, so I decided to try it. The waitress brought a huge 3-tortilla "sandwich" which sat on top of a bed of rice. The meat was some type of stew. NOT, what I ordered!
I was pretty hungry, but the vodka and Diet Cokes were helping a bit.
When I finally received the correct order, the pizza was pretty satisfying. Without the crust, it wasn't much different from eating shell-less taco salad.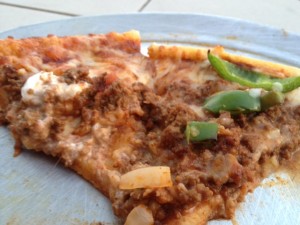 It was a nice end to the week, and I remained under carb count for the day. We had chocolate mousse at home for dessert…keto-friendly, of course!