Day 65: Love that Indian food
Weight loss: 15 pounds; next weigh-in: Sat, Mar 17th
I got to work at 8 and never had time for breakfast. To hold me over until my late lunch date, I had a handful of almonds.
It was a beautiful sunny day, so Rick and I decided to meet for lunch and Checkers and eat outside. It's only a little ways from work, so I walked down to meet him and we had a nice time outdoors for a bit.
I ordered a Baconzilla with mayo and tossed away the bun.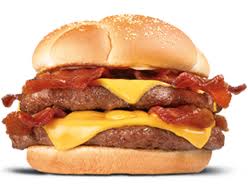 I worked until 6:30, then met my niece Marsha at the nursing home to visit my dad. The visit didn't go too well, he was depressed and not too aware of what was going on. I didn't get home until 8.
Rick had thawed some chicken tenders for me, so I cut them into pieces and made some Indian butter chicken from the convenient package mix. I chopped up a half head of leftover cauliflower and micro'd it a couple of minutes to use as the rice base. I didn't eat dinner until 10 pm, so I ate very little. I followed it with some chocolate mousse.
I know it was way too late to eat, but I usually don't get to bed until after 1 a.m., so it's probably the equivalent of most people eating dinner at 6, then going to bed by 9 or 10 p.m.
I did my day's calculations and was way under on the carbs again. I also drank very little water. Time to get back on track with both of those goals today.