Day 4: A really simple 2-minute low-carb / keto pizza snack
Breakfast – egg/cheese/sausage patty in a bowl
Lunch – leftover cream cheese and spicy sausage mixture in a low carb tortilla
Dinner – here's where  got creative…
I was pretty hungry about 4 pm, but we weren't ready for dinner. I had some work to do for our web design company, and I wanted to finish it up before I started cooking.
I came up with this delish snack (probably not an original – but it was to me. LOL)
Take some pieces of pepperoni, mound about a tbsp of mozarella in the center of each, put the plate in the microwave for about 30 seconds – and VOILA! tasty hot pepperoni pizza treats. They were quick and delicious and assuaged my hunger until dinner could be prepared.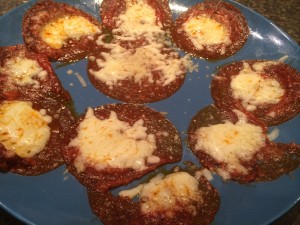 For dinner, I cooked a pound of ground beef, added taco seasoning and put the mixture on a plate. I topped it with grated cheddar cheese, chopped onions, one half an avocado, and a tablespoon of sour cream. I'll admit, I do love a taco shell, deep fried flour tortillas and all those other crunchy Mexican carbs, but this meal still tastes good and is a great substitute for carby Mexican meals.