Day 70: Back to work and a lovely evening
Weight loss: 17.5 pounds; next weigh day: Sat., Mar 24th
Again, I missed breakfast. I took my egg/sausage meal with me to work, but didn't have time to heat it. I decided to have a yogurt instead, but didn't have time to eat that and forgot about it.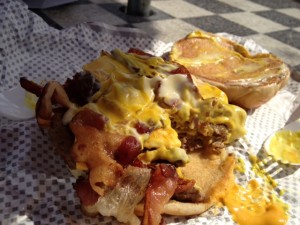 Around noon, I had a handful of almonds and I called Rick to ask him to meet me for lunch. He came up around 2 and we went to Checkers where I feasted on a Baconzilla.
After work, we went to see my dad at the nursing home. He was himself and it was a great visit out in the courtyard, so I called Marsha and the family came up to join us. We stayed until about 8 pm, then set off for dinner.
We had planned to visit for only a little while, then go find an outdoor cafe. Instead, we went up to trivia at Albert's so I could deliver the gift card we won last week, so the team could pay for their meal. Rick and I ate pizza out on the patio. I, of course, didn't eat the crust. I had a vodka and Diet Coke to end our beautiful, relaxing evening.