Tag Archives:
tacos in cheese shells
Lost: 0   Total weight loss: 11.5
Saturday mornings Rick and I like to go to the local diner. It's our "celebrate the weekend" thing to do. The keto plan works well for breakfast anywhere; as long as there are eggs and sausage or bacon, it's easy to start the day on plan.
After a breakfast of sausage and cheese omelet, we headed out to do some errands before it was time to pick up my friend at the airport. Jo and I were due at our trivia league finals, and before leaving home, I had an early afternoon meatloaf and cheese (1/2) low carb wrap.
At trivia, I ordered a Caesar salad with some water and lemon. (And our team performed terribly)
Dinner was the highlight meal of the day. I fried some ground beef with taco seasoning and made cheesy taco shells. While I was waiting for the meat to cook, I also threw together a pot of some Cincinnati chili with ground turkey, while I was cooking today's dinner…I'm trying to get ahead on the meal plans so I have some quick choices when I'm hungry.
When the shells were ready, I put a couple of ounces of taco beef, shredded cheese, onions, and sour cream in each taco. Then I pitted and chopped up an avocado and topped each some of that. The result was the best tacos I've eaten in a long time. I'm not sure if it was the cheesy shells, the fact that I used beef instead of my normal ground turkey, or the avocado topping, but they were very very tasty.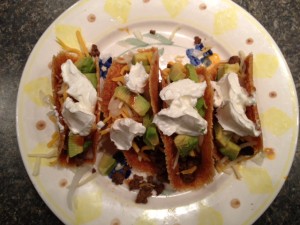 I'm still amazed that I can each rich, delicious foods like this and continue to lose weight so quickly. I guess I was "allergic" to carbs? This is by far the easiest diet to adapt to that I've come across. At the most, I think I've lusted over the idea of some steak fries. Besides that, I'd like to find some type of low-carb bread, but I'm not missing that too much so far.