Tag Archives:
cream cheese
Total weight loss: 31 1/2 pounds
The day started well when I put on last year's bathing suit. It used to be tight, but no longer! In fact, it's a bit loose.
I am feeling really good about the keto plan. It's not quick, but it is the absolute best plan I have been on in years. I just passed the six month point, so at a 31 1/2 pound weight loss, I've only averaged 5 pounds per month. However, that's fine and I'm happy. I can stick to this plan, and it is now an ingrained habit. I have a long way to go, but knowing I will probably have 60 pounds off by the end of the year is something more to look forward too. A year from now, it could be 90 pounds off. It just gets better and better.
So, back to the journal…after Saturday's carb coma, I jumped back into keto full swing on Sunday morning.
Breakfast was at home on the deck. Being the loving and dedicated wife that I am, I made Rick a couple of dozen blueberry pancakes to go with his eggs and sausage, but didn't touch a one. I made a grilled onion and cheese omelet for myself, and nuked 4 pieces of bacon to go with. The NYT puzzle was pretty easy, and I followed breakfast and puzzle with an hour in the pool.
In the afternoon, we got to work on the house, painting, cleaning, etc. etc. Cindy and Taylor helped and they also ran out to get some Del Taco for lunch. I ate the macho beef burrito with no tortilla. I did indulge in 3 chips with salsa.
We were tired and dragging at the end of the day. We didn't get home until 8 pm. I was mulling over what we could eat that wouldn't take much effort. Rick was in the mood for pizza, but wasn't married to the idea. I finally remembered that we had some kielbasa and sauerkraut in the fridge. They've both been there for awhile, but were still good. I threw the kraut in a pot, chopped up the kielbasa and started them to boil.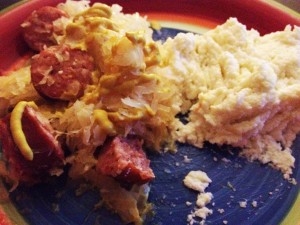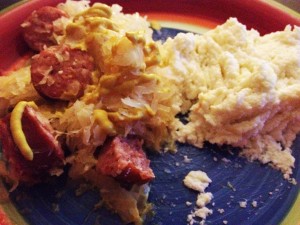 I found some frozen cauliflower and cooked it in the microwave for about 5 minutes, then put it in the food processor with 6 oz of cream cheese and a tbsp of butter. I had my faux potatoes ready, then made Rick some "real" mashed potatoes from a packet I found in the larder.
That was easy. When the food was cooked, I put a lid on it, and joined Rick on the deck. I drank a Michelob Ultra and we chilled a bit. Afterwards, we ate our meal and the faux cauliflower mashed were hardly any different than the regular when paired with the kraut and keilbasa.
Now for the flaw in the day…I was out of 70% chocolate, and I wanted something. I ate a DONUT. sigh. I can't believe it myself. I have no excuses. It's done.