Day 6: Surviving my first trivia league night
Weight loss: +1!!
Total: 5.5
Yow! That was a rude awakening. I'm really not too upset, though, because I know I'm on track. AND I still feel fantastic. I even woke up on time this morning, and I am a notorious over-sleeper. I tend to hit the hay around one a.m. and the 6:30 alarm is pretty irritating. That snooze button is a delight. Today I only hit it twice. And, I made it to work two minutes before my starting time…a miracle for me!
However, I'm still not totally prepared for meals on the keto plan yet, so I keep winging it as best I can with what we have. I made it through yesterday on plan, but I was sadly lacking in greens. That should be remedied by this evening. (And I'm hoping Rick will pick me up a big salad for lunch.)
Yesterday morning it was Monday morning and back to work for me. Rick helped out by cooking up his famous breakfast sandwich without the whole grain muffin. Scrambled egg, 2 sausage patties (instead of the usual 1) and 2 small slices of dubliner cheese. He layered it in a small plastic bowl and dribbled on a packet of Taco Bell border sauce. I ate it with a knife and fork at my desk when I got to work.
Lunch was fly-by-night. I took the leftover pulled pork taco, and grabbed a can of tuna which I mixed with mayo. The funny thing was that I forgot the taco shell was made of hardened cheddar cheese. When I heated it up in the micro, it came out a pile of cheese with taco fixings inside. It still tasted just fine, despite it's awful appearance.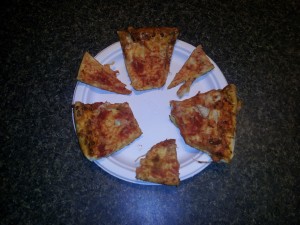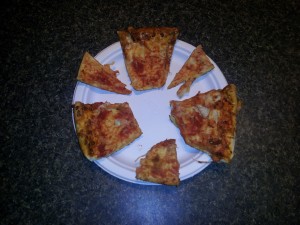 Monday is trivia night, and our team usually orders a pizza. I read up on advice from keto redditors who said it's perfectly acceptable to take the cheese and toppings off the crust, so that's what I did. It was delicious and satisfying. The only difficulty was in not being sure how much cheese to calculate in my food diary. I guessed at one cup, plus onions, and sausage.
As an added bonus, Sassy, our Bluetick Coonhound, enjoyed my dinner biproduct. Pizza crust is her favorite pizza snack. (See the leftovers in the picture). Waste not, want not.
Almost forgot, in between lunch and getting off work for the day, I ate 2 ounces of hard cheese for a snack.
After trivia, I entered the last of my food portions into myfitnesspal.com. I was short 11 carbs! Hmmm. what to do? I grabbed 2 tbsp of peanut butter, and one square of 70% chocolate. I dipped the square in the pb for a scrumptious snack while reading a new novel loaned to me by a coworker. It was delicious, and my carbs were done for the day.
The only problem I see so far, is the lack of vegetables yesterday. Rick was supposed to go to the grocery store, but thought he was coming down with the flu and I gave him the day off (joke). He promises to go to the fruit market tomorrow while I'm at work. Today/tomorrow=more greens.