Day 55: Hanging out around the house and trying some Carbquik recipes
Total weight loss: 17 pounds; next weigh-in: Sat., Mar 10th
Sunday morning was a little stressful. Friday night, I found an IM on Facebook from Rick's cousin Bob in Valparaiso, IN. He said Rick's cousin in Chicago had died. Rick wasn't close with his cousin, but he did want to attend the funeral, which was today.
Unfortunately, I forgot to tell Rick about the IM. Saturday night when I went to bed, I found the obituary posted on his cousin Bob's FB page. UHOH. I emailed Rick (he goes to bed much earlier than I do, so I email him at 1 a.m. if there is anything he needs to know when he wakes up in the morning–it works for us). When I awoke at 8:30, Rick was looking up the last minute flights. Turned out we couldn't get a flight back until Monday, so I couldn't go due to work and other commitments. We hightailed it to the airport, and Rick made it in time for the 3 pm service.
I was on my own, so I made the best of it. I watched old romance movies (Jane Eyre), I recleaned the kitchen and cleaned out the fridge. Then I did 2 loads of laundry, played around with old audio tapes from my 13th birthday (trying to record them and make mp3's), and generally relaxed.
Back to the topic, keto:
Breakfast was 3 eggs with cheese and onions. Snack at noon was almonds.
I was super hungry by 4 pm, and I reheated Indian butter chicken leftovers and made up some fresh "c-rice."
In the evening, I decided to experiment with the new Carbquik, and I made some cheesy garlic biscuits. They probably could have been cheesier, but they tasted similar to the authentic Red Lobster rolls. The texture and look were the same. The Red Lobster version is 17 grams of carbs, and this is only 2 grams, so it's a nice substitute. I ate two topped with butter.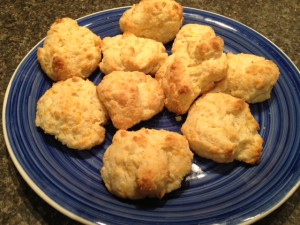 I also made a batch of deviled eggs. I ate 3 of them with the biscuits in lieu of dinner.