Day 49: Disappointing foccacio grilled cheese
Weight loss: 14 pounds
Next weigh-in: Saturday, Feb., 25th
Back to work yesterday. I started the day with my usual egg dish.
Snack at noon was a handful of almonds.
Lunch was a low-carb yogurt.
I was pretty hungry after work, but it was trivia night, so I had no time to eat. I found a Slim Jim and had that to hold me over (2 carbs). There aren't a lot of options at the bar, but I knew I could get a big salad. Since Jo wasn't planning to eat the side salad that came with her calzone, I ate hers. It was small but filling….for a time.
After getting home, I decided to try an idea I had last week: using the new foccacia bread in a grilled cheese. I butter both sides, slapped on some Dubliner cheese and grilled it. The results were disappointing.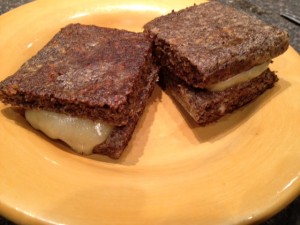 The sides of the bread didn't grill well. They were sort of a semi-blackened cake. The flavor was bitter, and I didn't enjoy it at all. However, I ate both just to get some nourishment. You win some; you lose some. [literally, I hope]
Rick was craving his dessert, so I made some low-carb mousse.
The past couple of days have been disappointing in comparison to the first few weeks of delicious menus. That topped with a zero weight loss have made me less than exuberant about the plan. I'm going to continue, because I know if I prevail, I'll continue to lose. I also feel good and my clothing fits much better. I decided to have tacos for my next dinner, to regain some of the enjoyment I had when I began the keto plan.