Day 44: Taco salad
Weight loss: 14 pounds
Next weigh-in: Saturday, Feb. 25, 2012
I was really busy at work, so I ate a late breakfast yesterday. I had the usual egg bowl made by Rick, which is a really convenient and delicious start to my dad.
I had a "midmorning snack" at around 1, then ate a boring lunch: two hotdogs on a plate, topped with mustard. That'll teach me to plan ahead.
By dinnertime I was looking for something different. I decided to adapt my taco salad recipe to the keto plan.
I cooked ground beef, added onions and black soy beans. Those are the only type of keto-friendly bean I have found. They are okay tasting, will help me get more fiber into my diet, and make a nice filler for mexican meals. I added taco seasoning and simmered it all together.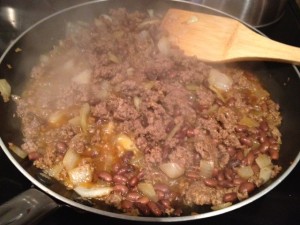 I ripped up some lettuce, added grated cheese, and topped with the beef mixture. Then I sliced up an avocado and put it on top. I used 2 Taco Bell taco sauce packets, because those are low carb. The only thing missing was the crunchy bag of Doritos. I cut a Flatwrap into triangles and sauteed in olive oil until mildly crunchy and broke a few up and tossed them into the salad. Of course, I topped it all with a dollop or two of sour cream.
The result was meh. It tasted just okay. I think there were too many tasteless items and not enough spicy ingredients to make up for the missing Dortitos. It wasn't terrible, but it wasn't nearly as good as traditional taco salad. Experiment #1 was a failure.