Day 25: Peanut butter pancakes
Lost: 0  Total weight loss: 13.5
No weight loss again – but no gain either. I anticipated bad news because I went over on my carbs yesterday. I guess I worried for nothing. I also finally took my measurements. I keep reading accounts of people who don't see a loss on the scale, but see a big difference in their measurements. Time will tell.
Yesterday was Saturday, so I had some time to experiment with breakfast. I had found this recipe for pancakes at "thelowcarbrecipes.com" while browsing Pinterest. Thought I'd give them a try. By the way, there are lots and lots of great sites out there to find delicious low-carb recipes that make this diet more of a fun experiment than a hardship.
Mixing the cream cheese with the egg didn't go perfectly…I ended up with some tiny clumps. The first pancake looked more like a crepe. However, the final 3 looked like the real thing, if a little on the thin side.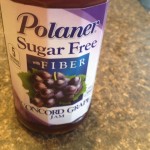 The pancakes had a nice texture, and just a tiny bit of peanut butter flavor. After tasting, I tried to think of a syrup substitute. I remembered that my friend, Walter, had turned me onto Polaner jelly, and that I had an unopened jar in the larder (I hadn't opened it because I couldn't think of anything to put it on, since I'm not eating toast anymore.)
Two tbsps of jelly on the pancakes, and I was in pancake heaven! I really enjoyed them. I'm not a fan of using 8 of my 20 carbs at the first meal of the day, but it will be a nice weekend treat. I washed them down with almond milk. I switched to the Silk brand when Rick pointed out that it was 0 net carbs, compared to my old brand (which had 1 gram per serving). I may as well conserve carbs when I can.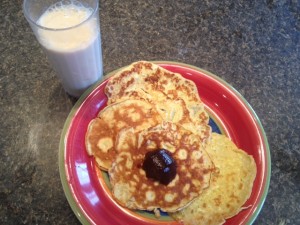 Lunch was on the run. I was putting down a tile floor at our soon-to-be sold (I hope!) rental income house. I ate my 28-almond ration and about 1/4 cup of leftover alfredo from dinner the night before. Brandon also had me taste a quiche-like recipe that Lindsey had made. Pretty good.
By 8:30 pm, I was done with the tiling for the day, and had just left the hospital, where I was visiting my dad. I was famished and on my way to trivia at Max and Erma's. I ordered the fajitas, ignored the tortillas and salsa, and had a filling and delicious meal. I'm not sure of the carbs. I put 8 grams in My Fitness Pal, and went over my allowance for the first time in 25 days. Oh well, I don't feel I cheated, and I needed the protein.