Day 11: Testing myself at a buffet
Weight loss: gained .5       Total to date: 9.5
We started our Saturday at the local diner. I had a sausage and cheese omelet and gave Rick my hashbrowns and toast.
Lazy day around the house, the off to the hospital to see my dad. Before we knew it, it was 5 pm, we hadn't had lunch, and were both famished.
We decided to go to a buffet, assuming there were enough keto-friendly choices that it would work for me. I'm not craving carbs at all, and it didn't bother me to pass up the potatoes, fries, cakes, breads, breaded everything that the buffet offered.
I settled for taco salad ingredients, minus shell or chips. I threw a few veggies on the side.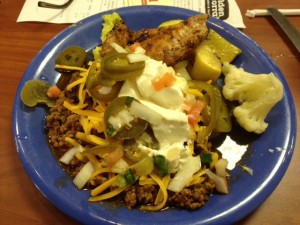 I followed up with a salad topped with blue cheese dressing.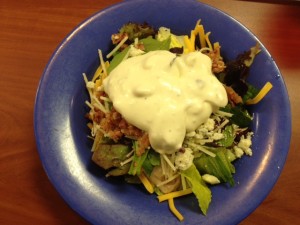 We stopped off at Kroger, where I picked up some natural peanut butter, polaner grape jelly, coconut milk, and almond milk. Dessert during the late movie was chocolate mousse with 1/4 cup strawberries.