Day 97: Sunday at Pizza Hut
Total weight loss: 26.5 pounds. Next weigh-in: Saturday, April 21st
Sunday morning at home was productive. Rick and I finished up a brochure and some more client cards. I worked a bit on our new site, and gathered more expense receipts for our business taxes.
We set out around noon to get some brunch and supplies for day 1,450 of home improvement. Rick was in the mood for Italian (it was his lunch, my breakfast). We decided to try Pizza Hut.
I had read on some blog somewhere, that Pizza Hut made a personal pan pizza without crust for a keto dieter. I ordered the personal pan pizza and salad deal and requested no crust. No such luck. The pizza came with it's usual very think deep dish crust. I slipped off the toppings and ate them along with a huge salad from the buffet.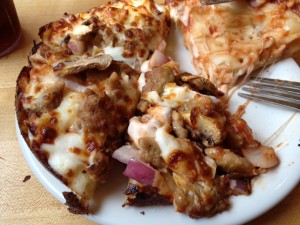 The bad news about the buffet was that I added a few tbsps of sesame seeds to the salad before looking up the carb count. They were higher than I thought, but I could still stay under 20 grams of carbs for the day.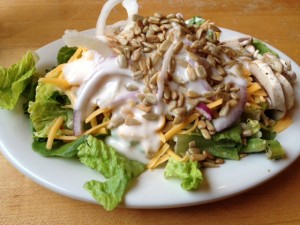 The pizza and salad were really good and filling. It's a good option, but next time, I may try a thinner crust pizza which may get me a thicker topping.
Afterwards, we picked up some supplies, then worked through the afternoon on molding in the kitchen. It was evening when we got finished and we headed home. I wasn't very hungry, so I ate some almonds and 2 pieces of 70% chocolate with natural peanut butter. I was way under count for the day. I have to get some better nutrition going this week.