Day 8: Beginning week two
Weight loss: 2 pounds  Total: 9 pounds
Yesterday was pretty unremarkable, except that I finally tried BBQ pork rinds and greek yogurt. Both were pretty good.
I woke up feeling under the weather. We've been passing some kind of bug around the family. I wasn't very hungry for lunch and I also didn't feel like cooking anything. I made a few cheese chips, topped them with artichoke dip and called it a meal.
After sleeping most of the afternoon, I decided to make some deviled eggs. I used the typical family recipe I've always used – added a little mayo, mustard, and onions to the yolks – and they were yummy….and legal keto!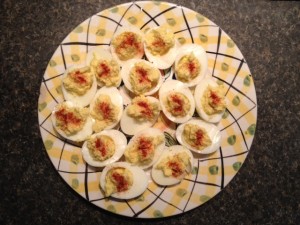 I made a nice boring arugula salad topped with Caesar dressing. Then mixed a tbsp of peanut butter into some Greek yogurt for a refreshing end to the somewhat sparse meal. I guess the biggest problem with eating keto while sick is trying to get enough calories and fat for the day.
I didn't get a chance to try to use coconut oil in a dish. We'll leave that for later today. Unfortunately, my dad has gotten whatever we all have, but at 88, I need to get him to the doctor pronto. Not sure how regimented this day will be. Let's see if I can stick to the keto plan on the run.