Day 56: Back to work and trivia night salad
Weight loss: 17 pounds   Next weigh-in: Saturday, March 10th
I started out my week in the dentist's office for a teeth cleaning, so breakfast was delayed. Once home, I scrambled up some eggs with cheese and onion, before setting out for work.
Around noon, my hurried breakfast was all used up and I was pretty hungry. I ate 2 handfuls of almonds. Lunch was around 3 pm, when I microwaved some Beddar Cheddar sausages.
Monday is trivia night. After visiting with my dad, I headed on up to Albert's On the Alley. They have a HUGE chicken club salad which has become my carb-friendly trivia night staple. Albert's makes the best pizza in town, but I always feel bad when I order it and butcher it by removing the crust. Better to wait until I can eat the whole thing – either because I'm doing some kind of break day, or because I have lost all the weight and decide to have a treat.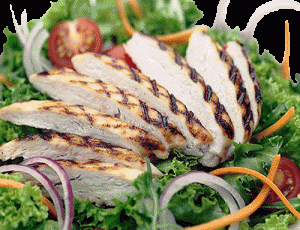 So, I ordered the chicken club salad with blue cheese dressing. I could only eat half. Despite being overweight, I never had much of an appetite. My weight gain was due to eating the wrong foods, not too much food. I took the remainder home to eat for lunch today.
Back home after trivia, Rick and I settled in front of the TV to watch Real Time with Bill Mahr while we ate our chocolate mousse dessert. Rick likes this treat a lot, so it is definitely going to be our nightly treat.
Around midnight, I got really really hungry, so I ate 3 deviled eggs and a Carbquik biscuit. That did the trick and I was still under carb count for the day.