Day 40: Saturday night pizza
Weight loss to date: 14 pounds
Next weigh-in: Saturday, Feb 25
We decided to relax at home yesterday, and boy did I!
I started the morning playing around online. Unfortunately, I get caught up in what I'm working on (pictures for our new website) and I forget to eat breakfast. I finally decided to eat around 1 p.m. I did, however, have my allotted 28 almonds as a  pre-breakfast snack.
When I finally set out for the kitchen, I warmed up a plate of Cincinnati chili. I guess that's my go-to leftover. Since I was taking this relaxing thing seriously, I ate it while watching some of the TV shows I had recorded during the week. I discovered my appetite is not what it used to be, and I could only finish half the plate.
I went back to working on my site in the afternoon, and had no lunch to speak of. When I got hungry in the evening, I had another handful of almonds.
Rick and I played with some logo ideas for our business. We've been doing this for nearly 10 years, but we've never fully agreed on the logo. Time to get that ironed out, because there are lots of items we'd like to purchase: tshirts, hats, folders, bags. We worked until about 8, then it was time for Saturday night pizza.
I decided to try the cauliflower crust that I found on reddit. Brandon and Lindsey tried it before, and he gave me some advice on cooking it a little differently than the recipe online.
I processed a half a cauliflower, then micro'd a cup of it in a bowl. I added 1 egg, about 1 and 1/4 cups of mozarella cheese, a clove of garlic, some oregano, and some parsley. I glopped the whole mess onto a pizza pan lined with parchment paper and baked it at  410 for 10 minutes. (I have no idea how I arrived at that temp. 450 seemed to much, I guess)
I then removed the crust and turned it over. I baked it directly on the pan for another 10 minutes.
It looked pretty official. I should have taken a picture of just the crust, but I will next time. I topped the crust with mozzarella and Mexican blend grated cheeses, some Italian sausage that I cooked while waiting for the crust, some onions, and some sliced jalapenos.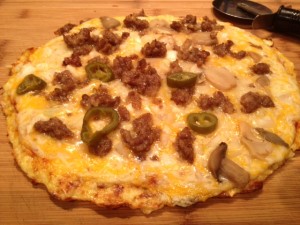 At first I was a bit disappointed. When I cut the pizza, it was pretty gooey. However, I waited for Rick to finish cooking his English muffin pizzas, and by then the pizza was solid enough to pick up and eat like a real slice. I dipped each slice in sour cream (because I can!) and enjoyed it very much. Half the pizza was about 10 grams of carbs.
Dessert was chocolate mousse. What a life.