Day 34: Lime cheese cake and weekday preparations
Lost: 0  Total weight loss: 12.5 pounds
Zero, zero, zero. Sigh. My plan to start weighing once a week after I hit 15 pounds may have to change. I'll give it a couple more daily weigh-ins, but if I continue to see no progress on the scale, I may stop weighing for a week or so. Today, I think I'll drink about 12 glasses of water. I've been reading ideas about how to get the pounds to start coming off when the progress is stalled.
I spent yesterday at home working on client sites and a revamp of our own business site. Before getting started, we did take an hour to have breakfast at the local diner. I had the feta omelet and bacon, and gave Rick all the extras that came with the meal.
For lunch, I cooked up some hamburger with taco seasoning and topped it with cheese, onion, and a couple of tablespoons of salsa.
I was in the mood for pizza, but didn't have enough ambition to try creating a crust from cauliflower. Instead, I adapted a recipe I found that used a mini muffin pan. I put a piece of pepperoni in the bottom of each muffin slot, topped with mozzarella and a bit of onion and green pepper. Then I sprinkled them with pizza seasoning and put chopped jalapeno peppers on half.
I baked them at 350 for 15 minutes. The original recipe called for cream cheese, eggs, and other items. I think that would have been more like a quiche.
The result was just so-so. They were tasty, and they were cute little cups, but the jalapeno pizzas were too salty. I ate about 8 of them, but that was the extent of my dinner.
I learned my lesson about planning last week. It seemed like I was always looking for a quick meal or having a snack for dinner. While my tiny pizzas were cooking, I prepared spaghetti squash and cooked up some Cincinnati chili. Then, before bed, I layered all the ingredients for a 5-layer chili dish into plastic dishes, so I could grab one for lunch as I left the house this a.m.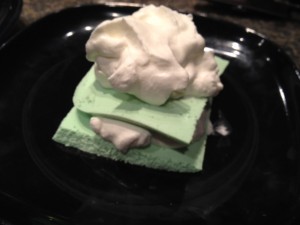 Last night's dessert was something I've been meaning to try; however, again, I adapted the recipe to an easier version. I had found a few recipes that used sugar-free lime jello and cream cheese to make a sort of mock cheese cake. Some called for cooking, some called for crust. I just mixed the jello and cream cheese together and chilled for a couple of hours. Before serving, I topped with whipped heavy cream.
It was heavenly. Rick said it hit every one of his taste buds. The flavor of the cream cheese blended well with the lime taste.