Day 94: Back on track
Total weight loss: 27.5 pounds   Next weigh-in: Saturday, April 14th
Yesterday continued my vacation week. We had more construction work to do, and we decided to try another new restaurant.
I woke up late (the perks of vacation!) and had brunch for my first meal. I chose two lovely chili dogs with no buns and topped them with mustard. Skip the fries, etc.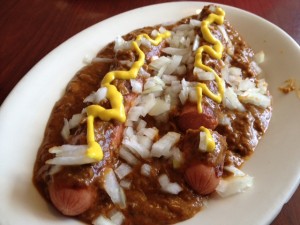 After another day of accomplishment at the rental, Rick and I headed home. I worked on Palmerworks websites for awhile, then decided to make a quick Indian butter chicken meal and use up the rest of the cauliflower for rice. I topped the dish with sour cream and it was heavenly. It was so delicious, I wanted to eat the entire recipe, instead of half. I decided to sit it out for a few minutes, and after letting the food actually hit my stomach, I was okay with one serving. It's all about timing, eh?
I made chocolate mousse for dessert. Back on track, still under on calories, but it's good to get back in the keto groove.