Day 302: Costco foods that are keto friendly
Total weight loss: 41 1/2 pounds
Yesterday after our celebration cheat meal, we went to Costco to spend money – I mean, to stock up on supplies and food. They have a few options that are quick, easy, and keto-friendly, like the roast beef with gravy, lots of cheese and low carb dips, and something we hadn't tried yet: chicken breasts stuffed with artichoke, spinach, and parmesan cheese.
The meal is only 5 grams of net carbs per serving (4 per container).
I decided to try it last night. First, I microwaved a 10-ounce bag of frozen cauliflower, then nuked the chicken. While it was cooking, I made the cauliflower mashed potatoes.
The result was a really delicious meal. It was like chicken cordon bleu, only tangier with the flavor of the artichokes and spinach.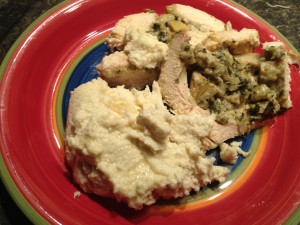 It was a hit with Rick, too. We'll be having this again soon.