Day 83: Sunday at work; Del Taco beef burrito
Total weight loss: 21.5 pounds   Next weigh-in: Saturday, April 7th
I spent Sunday morning and evening at work, and the afternoon sorting molding for the Drexel house. FUN.
I skipped breakfast (I know, I know, that's not good). I wanted to get this book deadline sewed up so I could relax. After working a couple of hours, Rick and I headed to Del Taco, where I ordered the Mucho Beef Burrito, or some such name. Of course, it came in its handy disposable giant tortilla. LOL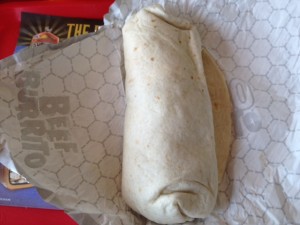 Hours later, after working at the rental house and going into my day job to check out the book's final stages, I finally had some dinner. I heated up 2 Beddar Cheddars with a side of cream cheese.
Later, while watching TV, I had 2 pieces of 70% cocoa chocolate bar topped with organic peanut butter., my unique version of a peanut butter cup.
Before hitting the hay, I looked around for some unique recipes. I came across this interesting blog: theroadfromfattofit.blogspot.com. I look forward to trying out some of these delicious-looking appetizers and meals.