Spaghetti squash alfredo
Spaghetti Squash Alfredo
Recipe courtesy George Stella, 2003
Show: Low Carb and Lovin' ItEpisode: Low Carb Revolution
Total Time: 45 min     Prep:  15 min   Cook:  30 min    Yield:  4 servings
Ingredients
Directions
Slice spaghetti squash in half lengthwise. Scoop out the seeds with a spoon and clean as you would a pumpkin. Completely submerge 1 half at a time, in a large pot of boiling water and cook for about 20 minutes until the inside is just tender to a fork and pulls apart in strands. (Cook's Note: It is better to undercook if you're not sure.) Remove, drain and cool with cold water or ice bath to stop the cooking.
Scoop out the cooked squash from its skin with a spoon as you would an avocado and discard the skin. Use a fork to fluff and separate the squash into "spaghetti"- like strands. You can also use your hands. Reserve the separated cooked squash and dip with a strainer into boiling water to reheat just before serving. (Cook's Note: If after cooking, the spaghetti squash is a little too al dente, you can cook it more in the hot water just before serving.)
Melt half the butter in a medium saucepan over medium-high heat. Add cream and reduce for about 2 minutes, then add garlic and cheese and whisk quickly, heating through. Stir in the rest of the butter and parsley. Place spaghetti squash in a large serving bowl, and pour Alfredo sauce over squash. Garnish with basil and tomatoes. Serve and enjoy!
This recipe is from the Food Network and is on my list of things to try. I'll add a picture when I make it.
I tried the recipe and it turned out to be one of the best dishes I've eaten so far. I skipped the tomatoes and didn't miss them.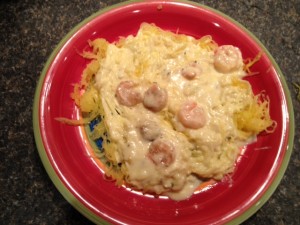 Read my blog about the cooking experience.