Day 67: Seeing progress–a good weigh day
Today's weight loss: 2.5 pounds; total weight loss: 17.5
I was relieved and happy to see the numbers starting to go down for a change. It still seems like slow progress, but as Rick says, it's going in the right direction.
TGIF. I worked four 10-hr days Monday thru Thursday, so my weekend began yesterday. Rick and I started our day at the Toast diner. I tried a 3-cheese mushroom omelet with a side order of crispy bacon, and it was very tasty. I forgot how much I used to enjoy mushrooms with my eggs.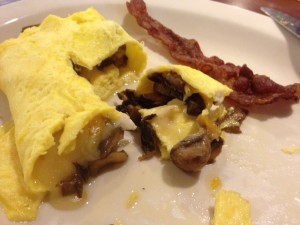 Around noon, we worked on cleaning out the garage and I skipped lunch. After going to the funeral home to see a coworker whose mother passed away, I was tired and hungry and didn't feel like doing much, including tiling the floor as I had originally planned. We stopped to get some groceries then headed home.
I heated up 2 Beddar Cheddars with a side of almonds and had a quick nap.
I didn't have much for dinner: some microwaved cheese chips with guacamole.
A few hours later, I had quite a few carbs left so I made 2 pieces of low carb toast with almond butter.