Keto Lasagna
This lasagna is made with a traditional marinara sauce, Italian sausage, and spaghetti squash. I saw this idea on several low carb sites, but most of the recipes, although low carb, were too high in carbs for keto. My husband has a really delicious homemade marinara sauce recipe. We just needed to cut some of the carbs. For the actual lasagna recipe, I adapted my Dad's traditional recipe with low carb spaghetti squash in place of the "noodles."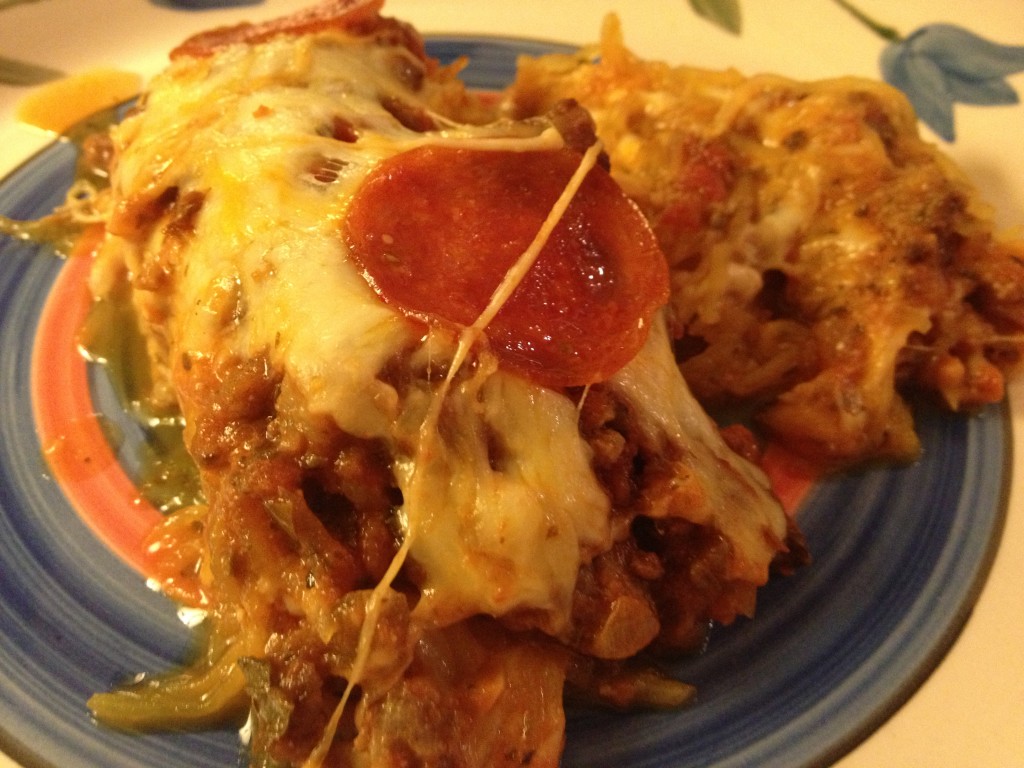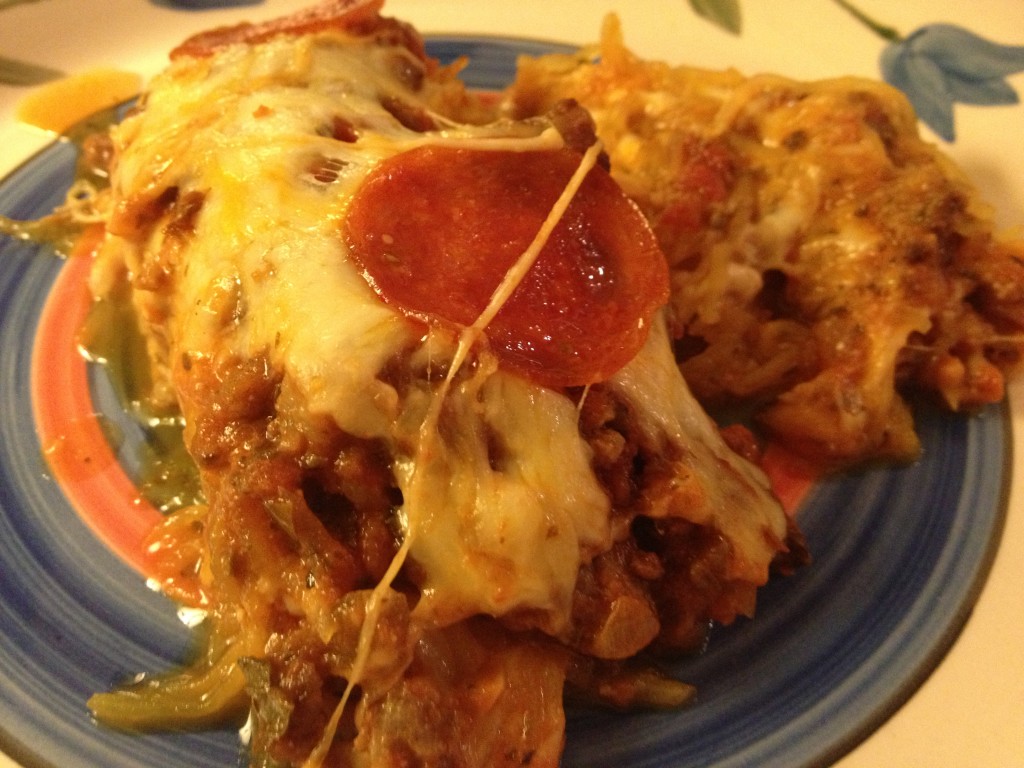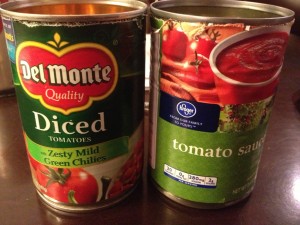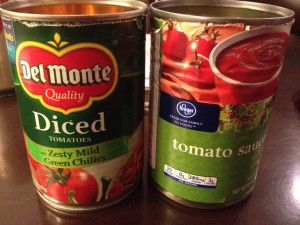 Rick did some investigating while shopping and found that a 14 oz can of Del Monte diced tomatoes with zesty mild green chilis was 7g per can, and Kroger tomato sauce was ZERO net carbs per can. He used 2 cans in his recipe, with 2 tbsp of olive oil (og), and various ingredients like garlic, 1/2 cup onion (10g), and 1/2 cup of red wine (4g).
Here's the entire list of ingredients and what I calculated for carbs…
Marinara sauce:
2 cans of tomato sauce (14g)
2 cans of diced tomatoes (0g)
1 tbsp olive oil (zero)
garlic (1g)
1 small onion (10g)
1/2 cup red wine (4g)
I added 1 lb. of ground cooked Italian sausage (5 grams of carbs). I mixed it into the marina sauce.
I used these cheeses (of course, all the cheese were "full-fat," not part skim):
18 oz of shredded mozzarella (zero)
4 oz of shredded Mexican blend (zero)
3 oz of cream cheese (4g)
1/4 cup of ricotta cheese (3g)
One spaghetti squash (approximately 4 cups – 32g) and pepperoni slices (1g).
I calculated the entire pan to be 74 grams. I cut it into 10 squares – each would be approximately 7.4 grams. See the picture below. To get a better idea, each serving has 2 pepperonis.
The process…
First make the sauce. When done, stir in the cooked and crumbly Italian sausage. (I'll link to my husband's recipe and process for making the sauce when he posts it on his cooking site.)
Next, cook the spaghetti squash. Here's how I do it. I didn't measure exactly, but I think it yielded about 4 cups of squash after cooking. I started layering the ingredients in a 9×14 pan like this:
One layer of cooked spaghetti squash (1/2 the squash)
Ladled half the marina sauce with sausage over the top
One layer of shredded mozzarella (9 oz)
Some grated Mexican blend cheese (about an oz.)
Some dollops of cream cheese (3 oz.) and full fat ricotta cheese (1/4 c)
Next layer of spaghetti squash (the rest of the bowl)
Layer of the rest of the marinara/sausage
Layer of mozarella (9 oz)
Sprinkle of Mexican blend (2 oz)
20 slices of pepperoni on top
I baked it at 350 degrees for about 35-40 minutes. Here are pictures of the process….
Here's the layer of squash with a layer of marina over the top.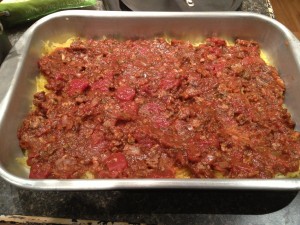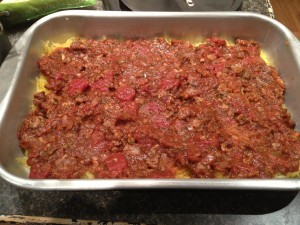 Next, add some cheese.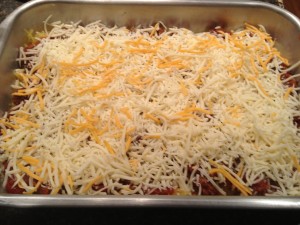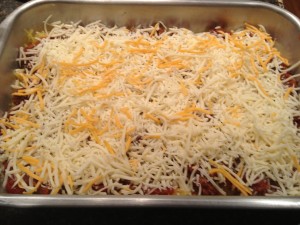 Dollops of cream cheese and ricotta cheese with a beginning of the next layer of squash on top…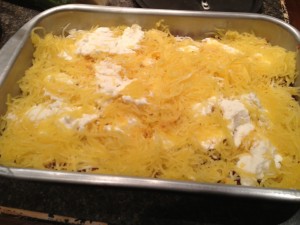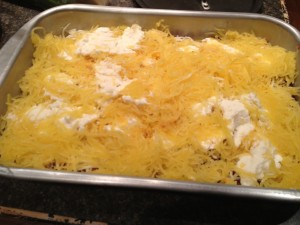 Another marina layer, mozzarella and Mexican cheese, and topped with slices of pepperoni.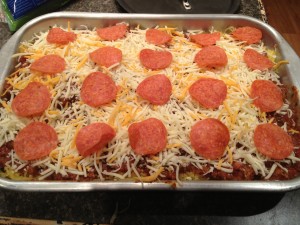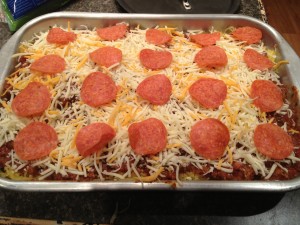 Bake at 350 degrees for 35-40 minutes.
This is the size of a serving (1/02 of the pan). I started to cut it into 20 squares, but that wasn't a very big portion, so I changed it to 10 servings – or each two pepperoni section = a 7.4 gram of carb portion.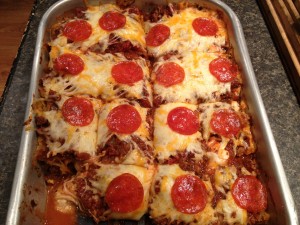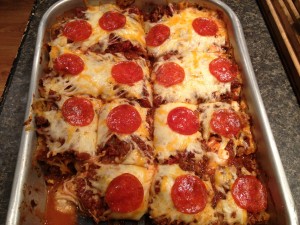 It's bubbly and delicious. I am always surprised at how well squash and cauliflower substitute for pasta. I think you really only need some texture and filler in most recipes; actual pasta, rice, and noodles aren't truly necessary for the good taste (IMHO).
Unless I have miscalculated, this is pretty low carb. If you want even lower, skip the "carby" cheeses, like cream cheese and ricotta – I just thought they'd add to the whole flavor sensation.
I'll measure better next time I make it, because I portioned out the spaghetti squash without using a measuring cup, but it seems like it was about 4 cups. You could always just make it with that amount, no matter the size of the squash (although mine was pretty large).