Day 41: Indian butter chicken cooked the right way
Weight loss to date: 14 pounds
Next weigh-in: Saturday, Feb 25th
I had another relaxing Sunday, yet accomplished a lot. Breakfast was at home. I ate the leftover pizza from last night while doing the NYT Sunday puzzle.
Lunch was piecemeal. I had a handful of almonds while  I worked on websites. I did some laundry, cleaned the kitchen, and by then it was time to go tile the floor at the rental house. I grabbed the leftover 1/4 dish of Cincinnati chili and warmed it up when I got there. It wasn't enough to call lunch, but it held me over until dinner.
Brandon made crackers from a recipe I found yesterday. They weren't very good, but the jalapeno yogurt dip tasted very good on top. I guess we'll all stick to bbq pork rinds to use for dipping.
For dinner, I decided to try to cook the Indian Butter chicken correctly this time. I microwaved it for 22 minutes on medium power, and it turned out well. I took a new picture of the way it is supposed to look, not dried up like my last venture.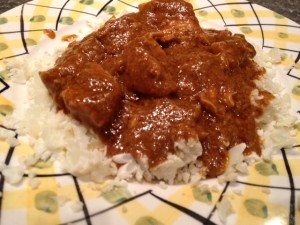 I cooked a half a head of grated cauliflower in the microwave and served the butter chicken over the top. I certainly have eaten more cauliflower than I ever have in my life.
I had mousse for dessert.
It felt odd not to weigh myself this morning, but I am definitely going to hold out until next Saturday.