Day 7: One week and I'm not dead yet
Weight loss: 2     Total: 7
Whew! Rick felt better yesterday and went out to forage for produce. Well, okay, he went to Randazzo's. I'm loaded up on veggies: cauliflower (one for pizza, one for "mashed potatoes"), romaine lettuce, spinach, avocado,  squash, mushrooms, and spaghetti squash.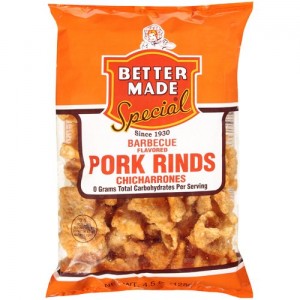 Rick also went to Kroger to pick up the other staples needed to work this keto plan: meats, 2 cartons of eggs, cheese, bacon, heavy cream, and…something I'm not too sure about… the Better Made BBQ pork rinds that my son insists taste like spicy BBQ chips, but have zero carbs. We'll see. I already had a bag of regular pork rinds to use as a bread crumb substitute in recipes, but YECK, I wasn't planning to eat them as a nosh.
I ordered virgin coconut oil from Amazon Monday.  Should be delivered today. I understand a couple of teaspoons a day are essential for keeping "regular." Enough about that.
I am blessed to have such a supportive husband. He's always been a hard worker, and now that he's retired, he is working on our website business, doing home improvement chores, helping with my father, and generally taking care of all the little details around the house. Best of all, he's the chef at the Palmerosa, and he now has more time to prepare some great meals…and he also LIKES grocery shopping. Am I lucky, or what?
Back to the plan. I had the usual eggs, cheese, sausage breakfast with Taco Bell sauce. Reheating really improved the flavor (I'd been eating it about an hour after Rick made it, at room temp).
Still being without groceries in the A.M., meant Rick dropped by with a BK bacon cheeseburger and salad for late lunch.
My prospects improved at dinner with all the lovely ingredients waiting for me.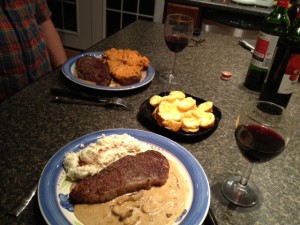 I decided to try oopsie rolls, which were a semi-failure because they were way too liquid to set up on the pan, so I made them in my mini-muffin pan and they turned out pretty well.
Rick reminded me that we had a couple of NY strip steaks left in the fridge, so I whipped up the creamy onion sauce again, Rick steamed 1/2 head of cauliflower which we turned into "potatoes," and we enjoyed a lovely repast complemented by a glass of Flip Flop cabernet. What a life!
Of course, this gourmet meal was followed by chocolate mousse, and I made it through another day of hard-core keto dieting.
See my separate oopsie roll blog soon.