Day 14: Spaghetti [squash] alfredo is the bomb
Lost: 0 pounds   Total weight loss: 9 pounds
Well, the scale isn't moving. However, I am not discouraged. This diet is the easiest I've ever encountered. Rick isn't even on keto, and he's scarfing down all the meals with relish!
Yesterday began with the usual eggs and sausage at work (prepared by Mr. Palmer's Kitchen). Lunch was a high fiber wrap with bologna and cheese.
After a 2-hour hospital visit, we didn't get home until 7 p.m. I was second-guessing my plan to make "spaghetti" alfredo. I assumed the whole process would be complicated.
It was easy-peezy. The spaghetti squash had microwaving directions printed on a stick-on label…."pre-micro" for one minute to soften a bit, cut in half, scoop out seeds and membranes, put one half in a microwave safe bowl with 1/2 cup water and micro for 12 minutes.
While that was cooking, I melted butter in a pan, added 1 cup cream, and reduced a bit. Then I added 1 1/2 cups of Dubliner cheese (we never have Parmesan in the house since we love the pungent Dubliner taste just as well) and some parsley. I could find the basil, so that was that.
I whisked that around a bit while 12 shrimp were frying in butter in a small pan on the next burner.
The squash finished cooking, and I scooped out the cooked flesh and fluffed with a fork. I added the shrimp to the alfredo sauce, cooked another minute and poured on top. Voila! 15 minutes tops!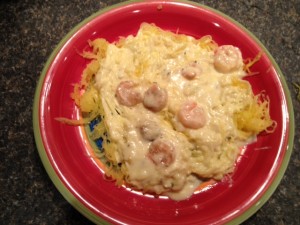 And it was delicious! I called Rick in for a taste and he loved it. I microwaved the other half of the squash for him, and left him half the sauce, while I scarfed down my portion. Yummy!
The moral of the story: the numbers on the scale may be stuck, but I'm eating healthy delicious meals, so I'll just continue with the keto plan and keep my fingers crossed.
Sidenote – my clothes are getting roomier!