Day 320: Dinner guests and Jet's pizza
Total weight loss: 39 1/2 pounds
Sunday morning, I made an omelet and some of that precooked quick-zap microwave bacon. I enjoyed my NYT puzzle and had a cozy meal in my pj's.
After breakfast, I unexpectedly fell asleep in my chair. I'm still not quite recovered from the respiratory ailment and I was really tired. Rick convinced me to go back to bed even though I'd only been up for 2 hours! I did, and I had a great sleep. When I got up, I sat in my recliner dozing while he cleaned the house. What a treat!
Rick's son George, wife Beccy and our granddaughter Danielle were coming by to let Rick take pics of Danielle with his new camera. After a couple hours of visiting, we decided to get a pizza. I hadn't been up very much during the day, so I hadn't eaten anything since breakfast. I was hoping I would have the will power to avoid the pizza crust.
I did. We ordered Jet's pizza, and it had a nice thick topping that slid easily off the crust. Some pizzas, like Buddy's for example, are just too difficult and frustrating to eat sans crust. The crust is almost the central point of a Buddy's pizza and eating only the topping leaves me feeling dissatisfied.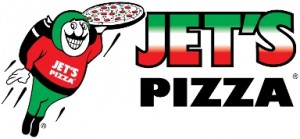 The Jet's pizza topping were filling and tasted great. George and I shared one with pepperoni, spicy pepperoni, jalapenos, Italian sausage, and something I can't remember. I also ordered naked boneless wings so the others could add bbq sauce, and I could eat mine with low carb buffalo sauce.
At the end of the meal, I made low carb chocolate mousse.
The crazy thing is, before going to bed I was disappointed that I had gone off and had an unplanned cheat meal. I just had a bad weigh in, what was wrong with me? Then I had to laugh when I realized I had eaten okay for the whole day. I didn't eat crust, I didn't eat boneless wings with coating or bbq sauce, and I had stayed well under my carbs. You know it's a good meal for keto when you think you went off. Jet's pizza is going on my list of good keto options.